49ers move forward from release of linebacker Aldon Smith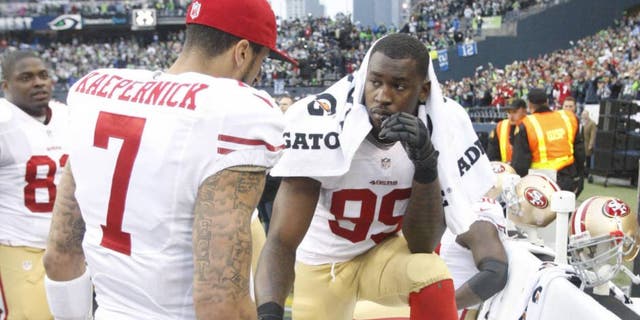 SANTA CLARA, Calif.
Aldon Smith's teammates, coaches and everybody else around the San Francisco 49ers kept hoping the star linebacker had matured and moved forward from all the legal issues that overshadowed his young career as one of the NFL's most talented defenders.
Just when things were looking bright for Smith under a new and familiar head coach, with a potential new contract being discussed, and a positive fresh start after a tough year that ended without a playoff berth, his career derailed once more.
He lost his livelihood.
This time, it's unclear when and if he can recover.
''We're not worried about football,'' an emotional coach Jim Tomsula said. ''It has nothing to do with football.''
The Niners released Smith on Friday, a day after his arrest by Santa Clara police on suspicion of drunken driving, hit and run and vandalism for his fifth run-in with the law since he arrived in the Bay Area as a first-round draft pick in 2011. He was dismissed only three days after general manager Trent Baalke praised Smith's growth and spoke of re-signing him for next season with his contract year approaching.
Early in training camp, the 49ers took yet another tough blow following the departures and early retirements of several prominent players during a tumultuous offseason; fellow linebackers Patrick Willis and Chris Borland walked away from football.
''It's tough,'' safety Antoine Bethea said. ''We've got to keep rolling. Next man up, whoever that may be, they've got to come in, they've got to step in, they've got to play well. Aldon, as we all know, when he's on the field he's something to reckon with.''
Baalke and Tomsula informed Smith of the decision at team headquarters Friday after he left jail.
''It's a sad day,'' Tomsula said. ''Guys care about him; we care about that guy, deeply.''
Smith was arrested Thursday night on a day off from practice for players.
Smith had said when camp began he was healthy and in great shape, ''ready to go.'' While he is free to sign with any team, not needing to go through waivers, he likely would first face another lengthy NFL suspension.
He missed the first nine games of 2014 serving an NFL suspension for violations of the league's substance-abuse and personal-conduct policies.
Police said Friday that at 8:46 p.m., Smith collided with a parked vehicle while parking his car, then caused further damage to the parked vehicle with his car door. The scene was only a couple of miles from team headquarters, at or on the street of Smith's luxury apartment complex.
Authorities said Smith left without reporting the collision or providing any identifying information. He later returned to and was contacted by officers. Smith displayed ''objective symptoms of being under the influence of an alcoholic beverage'' and officers conducted a field sobriety test, police said.
''Although he won't be playing football for the San Francisco 49ers, he will be supported and helped, and he will not have to walk this path alone,'' Tomsula said.
Smith denied he was driving under the influence during a brief interview with a local television station before Tomsula's news conference.
''Justice will be served, the truth will come out,'' Smith told KTVU Fox 2 as he walked out of jail. ''There's no DUI. ... I want everybody to understand the situation that happened could have been handled differently.''
Broncos linebacker Von Miller, who went No. 2 overall in the 2011 draft five spots ahead of Smith, offered his support. The two became acquainted leading up to draft day that year, and Miller has had his own problems that led to a six-game suspension to start the 2013 season for violating the league's substance abuse policy.
''That's my guy. I'm going to be with him until the very end,'' Miller said. ''We're friends before everything else. That's my brother. He's going through some tough times right now. I'm going to be the same Von that I was before. He was there for me. And I'm going to be there for him, no matter what that may be.''
The 25-year-old Smith missed time during the 2013 season to undergo treatment at an inpatient facility following his DUI arrest on Sept. 20 that year. Later in the year, he pleaded not guilty to three felony counts of illegal possession of an assault weapon, stemming from a June 2012 party at his home.
Smith was arrested on April 13, 2014 at Los Angeles International Airport. Police said Smith was randomly selected for a secondary screening and became uncooperative with the process, telling a TSA agent that he had a bomb. No charges were filed.
San Francisco has had 12 arrests or charges filed involving seven players since January 2012, prompting owner Jed York to promise the team would ''win with class.'' The Niners released defensive tackle Ray McDonald late last season for his off-field problems.
''If one person out there reads this and you're struggling, get help,'' Tomsula said emphatically. ''Go get it. You're worth it. There's value in every human being. Get the help. You don't have to walk alone. Find it, it's there.''