49ers bracing for NFL yards leader David Johnson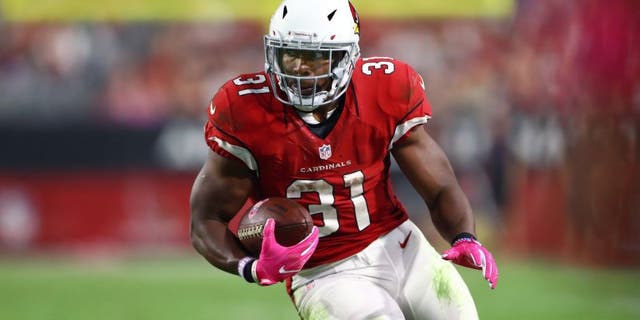 SANTA CLARA, Calif. -- The 49ers are growing tired of answering questions about their lowest-ranked run defense that allowed 100-yard rushers in seven straight games, which had never been done before.
"We know what the problems are. We just need to fix them," 49ers linebacker Michael Wilhoite said.
Fixing bad tackling and missed assignments won't get any easier Sunday in Arizona. San Francisco is tasked with slowing down the NFL's total yardage leader in running back David Johnson.
The last time these team teams played, Johnson became the fourth consecutive running back to eclipse the century mark against the 49ers, running for 157 yards and two touchdowns in a 33-21 victory Oct. 6.
Johnson, in his second season, has 1,112 yards from scrimmage through eight games, putting him on pace for more than 2,200. That's been done by 13 running backs since 2000.
"I think he's got a unique presence," 49ers coach Chip Kelly said. "You don't see a guy with that size that has that athletic ability."
The Cardinals have gotten creative with their emerging star by utilizing him in the passing game. He's second on the team with 35 receptions and 407 yards receiving, behind only Larry Fitzgerald.
"A lot of different teams throw the ball to their running back, but this guy's actually a wide receiver also," 49ers linebacker Eli Harold said. "Most guys are a decoy. But they actually have plays designed to get him the ball, so you got to account where he is all the time."
Johnson, a third-round pick in 2015, initially went to Northern Iowa as a receiver before adding 20 pounds of muscle to make the transition to running back. But he didn't lose the speed or route-running chops that helped him become a premier dual threat.
"He can run a route tree as a receiver out there," said Kelly. "I think that's what makes him such a unique guy to defend and probably one of the most versatile backs that we'll face."
Johnson and the Cardinals (3-4-1) are coming off their bye, while the 49ers (1-7) took their seventh straight loss, 41-23 to the Saints last weekend.
Despite the 49ers' pace toward becoming the fourth team since the merger to allow more than 3,000 yards rushing, Arizona coach Bruce Arians thinks San Francisco is making small improvements.
The 49ers' struggles defending the run can be traced back to losing four-time All-Pro NaVorro Bowman to a torn Achilles tendon in Week 4.
"When you lose leaders, it's very hard. The guys that rally the huddle," Arians said. "But I still think, I see them getting better. It's a play here and a play there rather than a bunch of plays.
"By the end of the season, they're going to be somebody to reckon with."