41-year-old Anderson Silva explains why he's not retiring anytime soon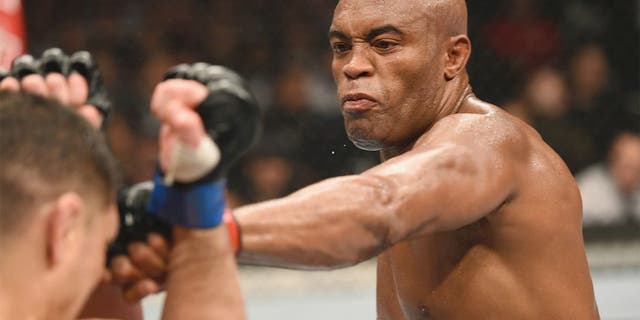 Just a few months before his fight with Nick Diaz in 2015, Anderson Silva signed a new 15-fight contract with the UFC with every intention of competing until the deal expired.
But a lot has changed in the time following Silva's new contract signing.
Silva won a lackluster decision over Diaz and then tested positive for banned substances that landed the middleweight icon a year long suspension from the sport. When he returned, Silva suffered a devastating setback with a decision loss to Michael Bisping this past February.
Now Silva approaches his next fight at UFC 198 in Brazil exactly one month after turning 41, but he has no plans to walk away from the sport any time soon and he's still eyeing to compete at least until the end of his current contract.
"Yeah, of course (I could fight that long)," Silva told FOX Sports ahead of his bout with Uriah Hall in Brazil.
If Silva retired tomorrow, he would go down as one of the most legendary champions to ever compete in the sport and arguably one of the greatest fighters of all time.
Silva was middleweight champion for seven years and defended the belt 10 times, which still stands as the longest record for any title-holder in UFC history.
As it stands now, Silva would have a lot of ladder climbing to get back into title contention after his loss to Bisping in February, but gold belts aren't the key to the former champion's future these days.
He's fighting because it's what he loves to do.
I love fighting. I love my job. This is me. Fighting. -- Anderson Silva
"I love training. I love martial arts. I love my job. That's it," Silva said.
Following the loss to Bisping in February, Silva was anxious to get back to work and the UFC obliged him with a fight in his hometown of Curitiba, Brazil this weekend.
Silva hasn't fought at home in more than 14 years so this will be a special moment for him and he's appreciative that the UFC gave him a spot on the card just three months after his last bout.
"Of course, I'm very happy UFC gave me one more chance for a fight again. I think this is very important for me to take back some time for my fights. I'm very happy, I'm very excited," Silva said.
"I'm very happy. I'm very excited. It's my dream to fight in Brazil in my country, in my city. My career started here. I'm very happy and this is very important for my legacy and my story fighting in the UFC now."
Going into the fight, Silva has heard Hall compared to him many times and he has a lot of respect for the former "Ultimate Fighter" finalist.
Silva believes this style matchup will allow him to showcase his arsenal inside the Octagon and put on a show for the 45,000 Brazilian fans filling up the stadium in Curitiba this Saturday night.
"Uriah is a great fight, he's a young kid. He shows good technique, good kicks, and he has a good style in fights," Silva said. "I need to say thank you to Dana White for giving me the chance to fight Uriah Hall because Uriah has great technique. He's a great challenge for my technique and my team and for me."
The fight with Hall will also represent the first time in nearly seven years where Silva is competing outside the main event.
For most of his UFC career, Silva has been involved in headlining title fights, but since losing the championship, he's no longer sitting at the top of the bill.
As much as he enjoyed being the main event, Silva promises that he's still relishing this moment in the spotlight and he isn't concerned with his slot as the third fight on the card versus the headline spot.
"I don't put this in my mind," Silva said. "I'm just keeping my focus on my training and my fight and that's it. I think this is a great card for the fighters and I'm very excited and ready for my fight. I can't wait to watch all the fighters in Curitiba. I'm very happy and I'm very excited because I think this is the great story for MMA in Brazil and a great story for the UFC in Brazil."
Silva isn't too big on predictions but he can't hide the smile on his face as he prepares to walk out in the stadium in his hometown at UFC 198. He knows this is the biggest opportunity of Hall's entire career so Silva is ready to face his best and more when they square off in the Octagon.
"I'm ready for war," Silva said. "That's it."