4 Blake Griffin trades the Clippers absolutely need to consider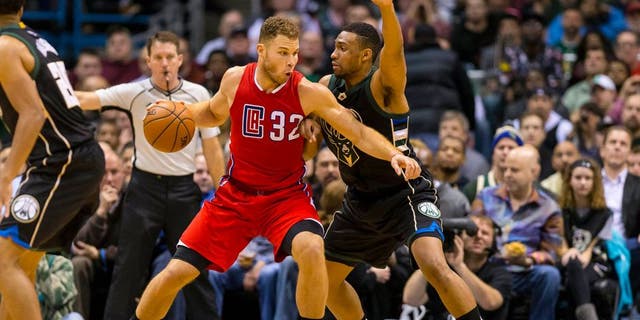 Six months ago, Los Angeles Clippers power forward Blake Griffin epitomized the word "untouchable" as it relates to any and every trade rumor. A 26-year-old physical specimen who may still be improving, Griffin was named to an All-NBA team in each of the past four seasons.
Any way you spin it, he's a superstar/franchise player/one of the most valuable athletes in the world.
Then, last month, he broke his hand punching a co-worker in the face. The team is 18-5 in his absence, and people are starting to wonder if Griffin has already played his last game in a Clippers uniform.
On Tuesday, Doc Rivers said don't hold your breath, but we'll believe him after the trade deadline officially passes.
Trading a star is rarely a good idea. But some situations call for it, and with Thursday's deadline rapidly approaching, here's a look at four offers that Rivers and the Clippers would have a hard time turning down.
4. Milwaukee Bucks
(Milwaukee would also send L.A. a top-seven-protected 2016 first-round pick.)
Here are two problems with this trade: 1) Milwaukee just signed Greg Monroe to a three-year, $50 million contract, and merging him with Griffin would create one of the most disastrous defensive front courts in the league; 2) Jason Kidd and Bucks' management would have barely over a year to convince Blake that spending the rest of his career in Milwaukee is a good idea (he's an unrestricted free agent next summer).
It's risky. What if Jabari Parker turns into a superstar and Griffin signs elsewhere in 2017? Are the Bucks ready to make noise in the East next season? Is Giannis Antetokounmpo on the doorstep of his first All-Star appearance? What type of haul can Milwaukee get for Monroe when the rest of the league has all the leverage in negotiations?
Counterpoint: The Bucks are getting Blake Griffin! And the Clippers are getting two things they seriously need: a two-way wing who can shoot 3s and defend multiple positions, and promising youth. Plug Middleton in for Luc Richard Mbah a Moute or Wesley Johnson, let Paul Pierce take Parker under his wing, and the Clippers might be better, for longer, than with Griffin wreaking havoc in their starting lineup.
But, as with any trade, several variables need to fall into place for everyone to walk away happy.
3. New Orleans Pelicans
Throw in New Orleans' top-five-protected first-round pick in 2017, and we might be onto something. Ryan Anderson is shooting 38.3 percent beyond the arc and is the ideal fit beside a defensive-minded center like DeAndre Jordan. He can space the floor and crash the offensive glass when the opposition goes small on him (a strategy Rivers likes to avoid, but Anderson makes it worthwhile).
Give a majority of Jamal Crawford/Austin Rivers' minutes to Holiday, and all of a sudden the Clippers have a legitimate two-way contributor in their backcourt who isn't Chris Paul.
Adding a potential lottery pick doesn't hurt.
For New Orleans, well -- defensive questions aside -- the opportunity to pair Blake with Anthony Davis is an absolute no-brainer.
2. Orlando Magic
(Magic include a top-three-protected 2016 first-round pick)
On Tuesday night, The Vertical's Adrian Wojnarowski reported that the Clippers want Magic big man Channing Frye:
This makes a ton of sense, considering how perfect he'd be playing alongside Jordan. Similar to the aforementioned Anderson, Frye is a prototypical stretch four who can drag his man out of the paint when L.A. has the ball. But the seven-foot sniper has other suitors, and it's probable Orlando gets a better offer than Lance Stephenson's expiring contract:
Aaron Gordon and a first-round pick are a lot to surrender for a player who can bolt in free agency next summer -- and a Griffin-Nikola Vucevic frontline would be even worse than Griffin-Monroe -- but why not give it a try?
The Magic have been rebuilding for five years; it's time they push their chips in.
1. Denver Nuggets
(Denver gives L.A. their unprotected 2016 first-round pick)
This is a popular trade partner because it makes too much sense. Gallo is a stretch four who can go off the dribble and get to the free-throw line. Barton is one of the league's most electric scorers off the bench. The Clippers badly need to replenish their non-existent collection of future assets, and an unprotected first-round pick from a team that's headed to the lottery should do the trick.
This deal makes L.A. better today, and would sink Denver in the standings (a solid carrot considering they'd have the Nuggets' draft pick).
After making this deal, the Nuggets would trade Kenneth Faried away to the highest bidder, pray Emmanuel Mudiay shows immense growth in his sophomore season and go on a shopping spree in July.
Overall, the possibilities are endless. The Boston Celtics have draft picks and talented wings, but they also have serious momentum, and it's unclear what they'd surrender to step back from this year's playoff picture.
A straight up swap for Kevin Love or Kevin Durant would be amazing for obvious reasons, but it's extremely hard to picture two title contenders breaking up their already-successful formula. Carmelo Anthony? That's intriguing. Can the Wizards package something around Bradley Beal, Nene and all their draft picks until 2022?
Point being, when it's conceivable that someone as good as Griffin can be dealt, every team in the league needs to do their due diligence.