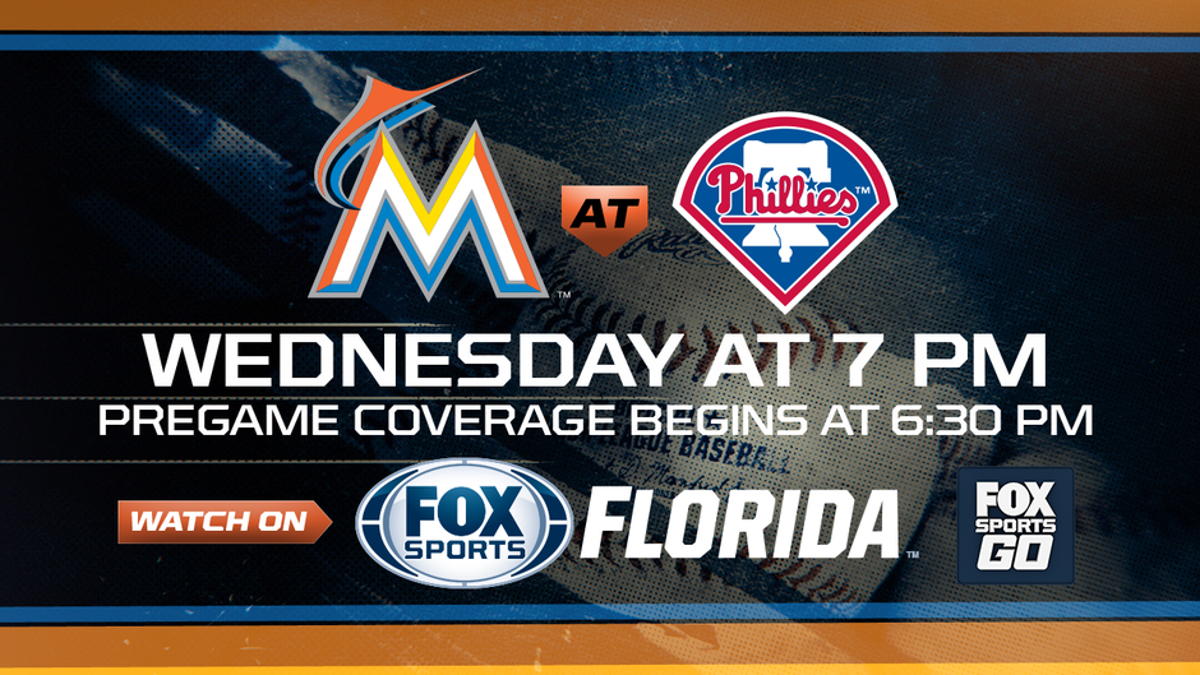 TV: FOX Sports Florida
TIME: Pregame coverage begins at 6:30 p.m.
PHILADELPHIA -- A rainstorm didn't give way in time, forcing the start of the Philadelphia Phillies-Miami Marlins series to be pushed back to Wednesday evening.
The delayed start to the series is just fine for the Phillies, who saw originally scheduled starter Aaron Nola hit the disabled list over the weekend with a back injury.
Instead of having to find a Triple-A call-up or fill-in starter, now manager Pete Mackanin can send Tuesday's scheduled starter, Vince Velasquez, to the mound and then go straight to Jeremy Hellickson on Thursday for the finale of the now two-game series.
Tuesday's game will be made up at a date to be determined. Miami's remaining visits to Philadelphia are Aug. 22-24 and Sept. 12-14.
Neither team really needed the bullpen rest -- both were already coming off scheduled off days Monday.
With the new 10-day disabled list and a retroactive April 21 date for his DL stint, Nola (2-0, 4.50 ERA) is eligible to be activated Monday. It doesn't sound as if he will miss much more than one time through the rotation.
"I don't think it's going to be a big issue," Nola told the Philadelphia Inquirer on Tuesday. "I feel like I definitely could have started (Wednesday). I understand. I definitely don't want it to lead to an arm thing again. I definitely don't want that to happen. But I definitely feel better today."
Last season, Nola was shut down after July 28 with a strained elbow.
Velasquez (0-2, 7.20), a flame-throwing right-hander has given up at least three earned runs in each of his three starts. His last time out was his most successful. He went six innings against the New York Mets while giving up five hits and three runs, though he didn't receive a decision in a 5-4 loss.
In three career starts against Miami, he is 1-0 with a 2.50 ERA, striking out 20 Marlins in 18 innings. He is looking to keep the Phillies' four-game win streak alive.
"I need to pitch deeper into games and be more effective when it comes to pitch count," Velasquez told Philadelphia Baseball Review. "I feel like I'm getting there, but there's still work to be done."
The Marlins will turn to Wei-Yin Chen (2-0, 3.94 ERA) for Wednesday. The left-hander will make his fourth start in hopes of remaining unbeaten.
Chen is battling injuries of his own: a partial tear to his UCL, which he sustained last summer, though it has not negatively impacted him so far.
On April 18 in Seattle, Chen pitched seven hitless innings before Marlins manager Don Mattingly removed him at 100 pitches. Chen had not thrown more than 86 pitches in his first two starts.
"With the tear in the ligament, it doesn't really heal," Chen told the Sun-Sentinel through translator Louis Chao after his last start. "It's still there. It won't heal. So I don't really think about if it'll get worse or not. I just think about with this, what treatment I should be getting."
Chen is 1-2 with a 3.70 ERA in four career starts against the Phillies. In two career starts in Philadelphia, Chen is 0-2 with a 4.76 ERA.
The postponement pushes Marlins right-hander Edinson Volquez back to start Thursday's game, while left-hander Adam Conley gets Friday's series opener in Miami against the Pittsburgh Pirates.