3 ways Reds fans can enjoy these tough rebuilding years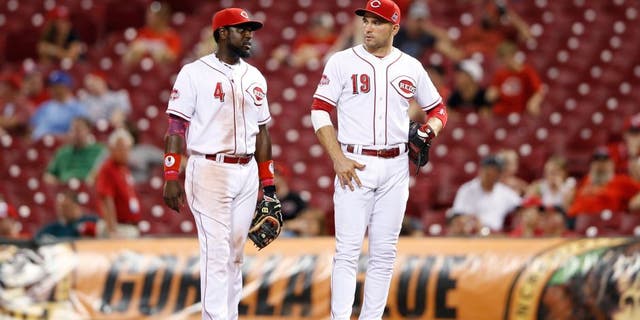 Each weekday between now and the end of spring training, we'll analyze one team's keys for success (or keys to avoid complete irrelevance) in the 2016 season. Today, we try to get Reds fans excited after a 98-loss season and more roster reshaping.
1. Invest in Joey Votto. Specifically, put a quarter into a jar every time you hear about Votto taking too many walks and not driving in enough runs. The mentions would have netted you thousands in recent years but could result in millions now that the lineup has been gutted. Expect his on-base supremacy to continue -- Votto leads the majors with a .436 OBP since 2010 --€" now that pitchers have even less incentive to give him pitches to hit (and will have yet one fewer reason once Jay Bruce finally is traded).
Votto has led the NL in walks in four of the past five seasons, leading the majors in free passes twice in that span. However, he hasn't driven in more than 80 runs since 2011 and has topped the 100-RBI plateau just twice in his career. At least try to profit off the criticism. (Another fun game: Drop a quarter into the jar every time you hear teammate Billy Hamilton doesn't walk enough.)
2. Enjoy the youngsters. Following the trades of right-handers Johnny Cueto and Mike Leake last summer, Cincinnati's rotation was comprised entirely of rookies (Raisel Iglesias, Anthony DeSclafani, Keyvius Sampson, Michael Lorenzen, David Holmberg). Iglesias looked especially promising, striking out 104 batters in 95 1/3 innings. Veteran righty Homer Bailey will return from Tommy John surgery this season, probably just in time to be showcased for a trade.
Among the position players, Eugenio Suarez will start at third base -- the spot formerly occupied by Todd Frazier -- because he is blocked at shortstop by Zack Cozart. The wait will continue, however, for prized second base prospect Jose Peraza. That's because ...
3. Embrace Brandon Phillips. This man loves Cincinnati and its fans so much that he reportedly vetoed two separate trades that would have sent him to a contender this past offseason -- first to the Arizona Diamondbacks and then to the Washington Nationals, with whom he would have been reunited with former manager Dusty Baker.
Phillips will turn 35 this summer, so he is on the downside of his career. However, his .294 batting average last season was hit best since 2011 and he continues to turn in highlight-reel defense at second base. And fans are almost guaranteed a selfie with him when spotting him around town.