3 things that must go right if the young Twins are to contend again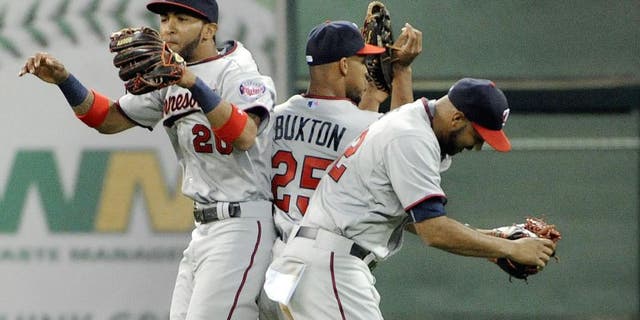 Each weekday between now and the end of spring training, we'll analyze one team's keys for success (or keys to avoid complete irrelevance) in the 2016 season. We focus on the Twins today, and we'll wrap up the AL Central with the White Sox on Friday.
1. Surgically attach Miguel Sano to Torii Hunter. You've played at least as many games (zero) in the outfield in the majors as Sano, who progressed through the Twins' system as a third baseman and served almost exclusively as the DH after his call-up last July. With Trevor Plouffe entrenched at the hot corner in Minnesota, the team plans to start Sano in the outfield.
It's imperative to keep Sano's bat in the lineup after he bashed 18 homers with a .916 OPS in 80 games as a rookie in 2015. That's where Hunter --€" a nine-time Gold Glover who retired after serving as the Twins' right fielder last season --€" comes in. Hunter will work with Sano this spring as an instructor, and he also will check in on Byron Buxton and Eddie Rosario, the Twins' other dynamic young outfielders.
2. Make sure it all translates for Byung Ho Park. In terms of language and production, that is. Park arrives in the majors after nine seasons in Korea, making him somewhat of a mystery. He has topped 30 homers and 100 RBI in each of the past four seasons, and he followed up a 52-homer season in 2014 with 53 long balls in 2015.
But what will that mean in the majors? The Twins probably would be thrilled if he provides production similar to that of the Pirates' Jung Ho Kang in his rookie campaign (15 homers, 58 RBI) in 2015 after a career spent in Korea. Park is a first baseman but isn't going to unseat Joe Mauer, so he is penciled in as Minnesota's DH.
3. Keep getting by without the K's. The Twins have long been known as a team that pitches to contact. So it should come as no surprise that Minnesota's pitchers were last in the majors in strikeouts last season. Not one of their starting pitchers averaged even seven strikeouts per nine innings in 2015, and closer Glen Perkins checked in at just 8.5.
Instead of punchouts, the Twins rely on putouts and put plenty of emphasis on their defense. Thus, the need to acclimate Sano to an unfamiliar position.