3 reasons the Cardinals can hold off the Cubs in the NL Central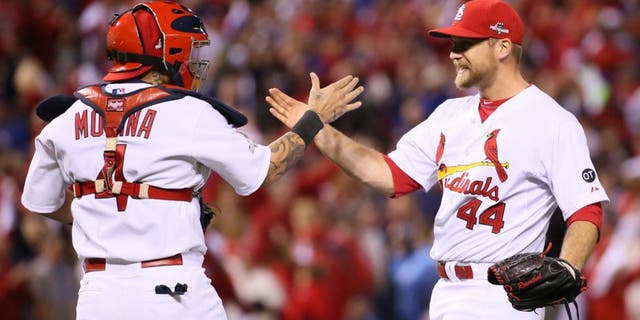 Each weekday between now and the end of spring training, we'll analyze one team's keys for success (or keys to avoid complete irrelevance) in the 2016 season. We turn our attention to the NL Central this week and begin by analyzing why a fourth consecutive division title is realistic for the Cardinals.
1. Their rotation is stronger than people think. First, the bad news. The loss of John Lackey, who led the rotation with 218 innings pitched last season, hurts. But was it realistic to expect him to duplicate his career-best numbers at age 37 this season? There also is a void left by Lance Lynn, who will miss the 2016 season while recovering from Tommy John surgery. And depth will be an issue with top prospect Alex Reyes serving a 50-game suspension.
However, ace Adam Wainwright is healthy after missing most of the 2015 season, Michael Wacha is coming off a 17-win season, Mike Leake is a perfect free-agent fit and Carlos Martinez is back after missing the postseason with a shoulder injury. As always, Jaime Garcia is a wild card because of his health, but he was excellent (2.43 ERA, 1.05 WHIP) in 20 starts last season.
2. They aren't the senior citizens Jason Heyward thinks they are. Heyward rankled Cardinals Nation by saying one of the reasons he signed with the Cubs this offseason was because of their young core, implying that the Cardinals watch "Matlock" reruns in the clubhouse before napping in recliners each afternoon.
Sure, St. Louis has some aging veterans (Matt Holliday, Jhonny Peralta, Yadier Molina, Wainwright), but it also is loaded with talented youngsters. Second baseman Kolten Wong (age 25), center fielder Randal Grichuk (24) and right fielder Stephen Piscotty (25) all made major impacts last season. Ditto for Wacha (24), Martinez (24) and closer Trevor Rosenthal (25). And there's more young talent on the farm.
3. Matt Carpenter has outgrown the leadoff spot. In fact, Carpenter outhomered and outslugged every Cubs player except Anthony Rizzo last season. That should earn the third baseman a spot in the middle of the Cardinals' order after he hit .300 as the team's leadoff man the past three-plus seasons.
Often overshadowed even on his own team, Carpenter is a legitimate MVP candidate who ranks 12th in the majors in on-base percentage over the past three seasons. In that three-season span, he has led the NL in runs, hits, doubles and walks at least once.