3 players who filled up the box score in Week 5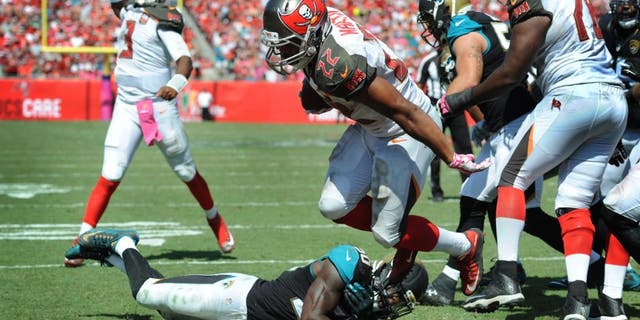 Another Sunday of NFL action is in the books, and this week's statistical standouts deserve their due recognition. The players highlighted in the Week 5 installment of this piece include an unlikely veteran quarterback, a resurgent running back and another ball-carrier who is blowing out the box score on a weekly basis.
Here are three players who filled up the box score in Week 5.
Josh McCown, quarterback, Browns
Josh McCown expertly quarterbacked the Browns to a 33-30, overtime victory over the Ravens on Sunday. He attempted 51 passes and completed 36 of them (70.6 percent). He eclipsed 450 passing yards (nine yards per attempt) and threw two touchdowns tosses. McCown also rushed for a 10-yard touchdown and converted a two-point conversion to Andrew Hawkins. The Browns are showing signs of life at 2-3, and their starting quarterback has averaged 384.7 passing yards per game over the last three weeks.
Doug Martin, running back, Buccaneers
Doug Martin powered the Buccaneers to a 38-31 win in Week 5. The visiting Jaguars could not keep Martin out of the end zone, as the fourth-year back scored three of Tampa Bay's four touchdowns. He handled 27 total touches on Sunday for 158 yards of offense, with two of his touchdowns coming on goal-line plunges and one coming on a 10-yard reception. With 123 yards on the ground against Jacksonville, Martin has eclipsed the century mark in back-to-back games (106 vs. Panthers in Week 4). He hadn't done that since 2012 -- Martin's rookie season.
Devonta Freeman, running back, Falcons
Devonta Freeman is becoming a regular in this weekly series, but you can't ignore nearly 200 yards from scrimmage. The Falcons running back was a workhorse during his team's fight with the Redskins to stay undefeated through five games. He carried the ball 27 times for 153 yards (5.7 yards per carry) and caught seven passes for 44 yards (6.3 yards per catch). His six-yard touchdown scoot gave Atlanta a fourth-quarter lead, but the Falcons needed an overtime period to escape with a 25-19 victory over Washington.
MORE NEWS: Want stories delivered to you? Sign up for our NFL newsletters.