3 players who filled up the box score in Week 4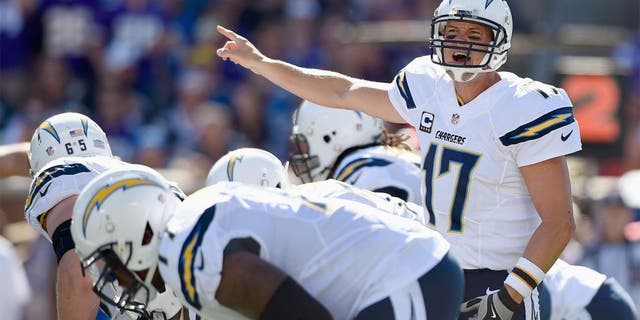 Sunday saw several players post scintillating statistics around the NFL. This week's standouts included a strong-armed passer, a running back on the rise and a rookie who made his first big impact.
Here are the three players who filled up the box score in Week 4.
Phillip Rivers, quarterback, Chargers
Rivers came out on top in a quarterback duel against Josh McCown and the visiting Cleveland Browns on Sunday. He threw 38 passes, completing 23 attempts for a decent completion percentage of 60.5. Rivers' tosses covered a lot of ground, though. He finished the game with 358 passing yards (9.4 yards per pass attempt). The veteran quarterback came through with a few big throws, tossing three touchdowns and no interceptions in a thrilling, 30-27 victory over the Browns.
Devonta Freeman, running back, Falcons
Freeman exploded for a second consecutive week, lifting the Falcons to a 48-21 win over the Houston Texans. After torching the Dallas Cowboys last weekend, the second-year running back handled only 14 carries for 68 yards (4.9 yards per carry) but he found the end zone three times on the ground in Week 4. On top of that, Freeman caught five passes for 81 yards. That's 149 total yards of offense on 19 total touches for the Florida State product.
Todd Gurley, running back, Rams
Gurley enjoyed a breakout performance, as his Rams took down the previously undefeated Arizona Cardinals in a 24-22 NFC West battle. The first-round rookie toted 19 carries and led St. Louis with 146 rushing yards (7.7 yards per carry), with a long of 52 yards. Gurley did not score a touchdown but he probably could have. With time running out, he got loose and smartly gave himself up inbounds after picking up a first down.
MORE NEWS: Want stories delivered to you? Sign up for our NFL newsletters.