3 Arkansas hoop players arrested on forgery complaint, suspended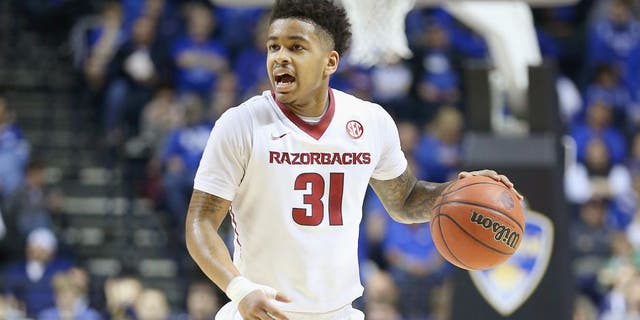 Police arrested three Arkansas basketball players Wednesday, alleging they used counterfeit money to buy merchandise at three locations near campus.
After the arrests, the school announced indefinite suspensions for starting point guard Anton Beard, forward Jacorey Williams and junior transfer student Dustin Thomas.
''Our continued expectation is that our student-athletes conduct themselves in an appropriate manner at all times,'' associate athletic director Kevin Trainor said.
Fayetteville police said all three were seen on surveillance video using counterfeit $20 bills last Friday and Saturday. The complaint said Beard also exchanged six counterfeit $50 bills for three $100 bills.
The three were arrested on suspicion of forgery and face a Friday court hearing. They were being held Wednesday afternoon without bail.
Police said that the arrests were related to two-month investigation into counterfeit money. Police also said that after the players were detained, they said they didn't know the money was fake.
First-degree forgery charges are Class B felonies in Arkansas and can carry a prison sentence of five to 20 years.
Beard was an All-SEC freshman team selection last season after starting 16 games and averaging 5.7 points and 1.5 assists per game. Williams is a three-year letterman and started seven games as a junior, averaging 4.8 points and 2.8 rebounds. Thomas transferred to Arkansas in May after playing two years at Colorado.
The news came on the same day it was announced highly touted signee Ted Kapita had failed to qualify academically. Kapita enrolled at Spire Academy in Ohio for a post-graduate year, the school announced.
Kapita, a 6-foot-9-inch forward, was seen as a way to replace SEC Player of the Year Bobby Portis, who declared for the NBA Draft after his sophomore season and was selected 22nd overall by the Chicago Bulls.