2018 World Cup qualifying draw sets potentially rough road for USMNT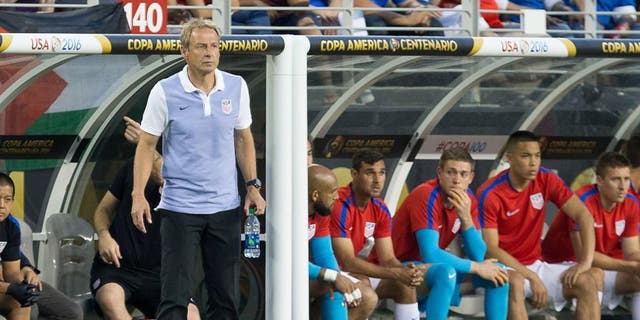 NEWYou can now listen to Fox News articles!
CONCACAF conducted the draw for the final stage of 2018 World Cup qualifying on Friday and it set the stage for a potentially rough road for the United States.
"Potentially" is the key word because much about the draw is still to be determined. The semifinal round of World Cup qualifying isn't completed yet (that will be done in September) so the draw simply set the schedule for the winner of Group A from the semifinal round, runner up of Group A, winner of Group B, etc. All we can do is assume the U.S. win Group C, which is likely, and if they do then they will have some trouble in the final round.
The winner of Group C opens the final round of qualifying against Mexico (who have already clinched first place in Group A), then follows that up with a trip to Costa Rica (who should have no problem hanging onto first place). Those are two of the more difficult matches of the round and if the U.S. struggles in those two, they will find themselves in an early hole for the remainder of qualifying. In addition, winning Group C would mean they travel to Mexico in June, when the heat and smog of Mexico City is especially bad.
The final round has six teams in a single table, with each playing every other team home and away. The top three teams automatically qualify for the 2018 World Cup, while the fourth place team goes to an intercontinental playoff for the last World Cup spot.
Before they can get to the final round, though, there is the semifinal round to conclude. Odds are that the U.S. will win Group C, with Trinidad and Tobago or Guatemala in second place. Mexico has clinched first place in Group A and Honduras and Canada are battling for second place. Costa Rica should win Group B, with Panama and Jamaica in a fight for second. With that in mind, this is what the final round would look like if likelihood holds.
Final round schedule

Matchday 1 (November 7-15, 2016)
USA (C1) vs. Mexico (A1)
Honduras/Canada (A2) vs. Panama/Jamaica (B1)
T&T/Guatemala (C2) vs. Costa Rica (B1)

Matchday 2 (November 7-15, 2016)
Costa Rica (B1) vs. USA (C1)
Panama/Jamaica (B1) vs. Mexico (A1)
Honduras/Canada (A2) vs. T&T/Guatemala (C2)

Matchday 3 (March 20-28, 2017)
USA (C1) vs. Honduras/Canada (A2)
T&T/Guatemala (C2) vs. Panama/Jamaica (B1)
Mexico (A1) vs. Costa Rica (B1)

Matchday 4 (March 20-28, 2017)
Panama/Jamaica (B1) vs. USA (C1)
Honduras/Canada (A2) vs. Costa Rica (B1)
T&T/Guatemala (C2) vs. Mexico (A1)

Matchday 5 (June 5-13, 2017)
USA (C1) vs. T&T/Guatemala (C2)
Costa Rica (B1) vs. Panama/Jamaica (B1)
Mexico (A1) vs. Honduras/Canada (A2)

Matchday 6 (June 5-13, 2017)
Mexico (A1) vs. USA (C1)
Panama/Jamaica (B1) vs. Honduras/Canada (A2)
Costa Rica (B1) vs. T&T/Guatemala (C2)

Matchday 7 (August 28-September 5, 2017)
USA (C1) vs. Costa Rica (B1)
Mexico (A1) vs. Panama/Jamaica (B1)
T&T/Guatemala (C2) vs. Honduras/Canada (A2)

Matchday 8 (August 28-September 5, 2017)
Honduras/Canada (A2) vs. USA (C1)
Panama/Jamaica (B1) vs. T&T/Guatemala (C2)
Costa Rica (B1) vs. Mexico (A1)

Matchday 9 (October 2-14, 2017)
USA (C1) vs. Panama/Jamaica (B1)
Costa Rica (B1) vs. Honduras/Canada (A2)
Mexico (A1) vs. T&T/Guatemala (C2)

Matchday 10 (October 2-14, 2017)
T&T/Guatemala (C2) vs. USA (C1)
Panama/Jamaica (B1) vs. Costa Rica (B1)
Honduras/Canada (A2) vs. Mexico (A1)
MORE FROM FOX SOCCER