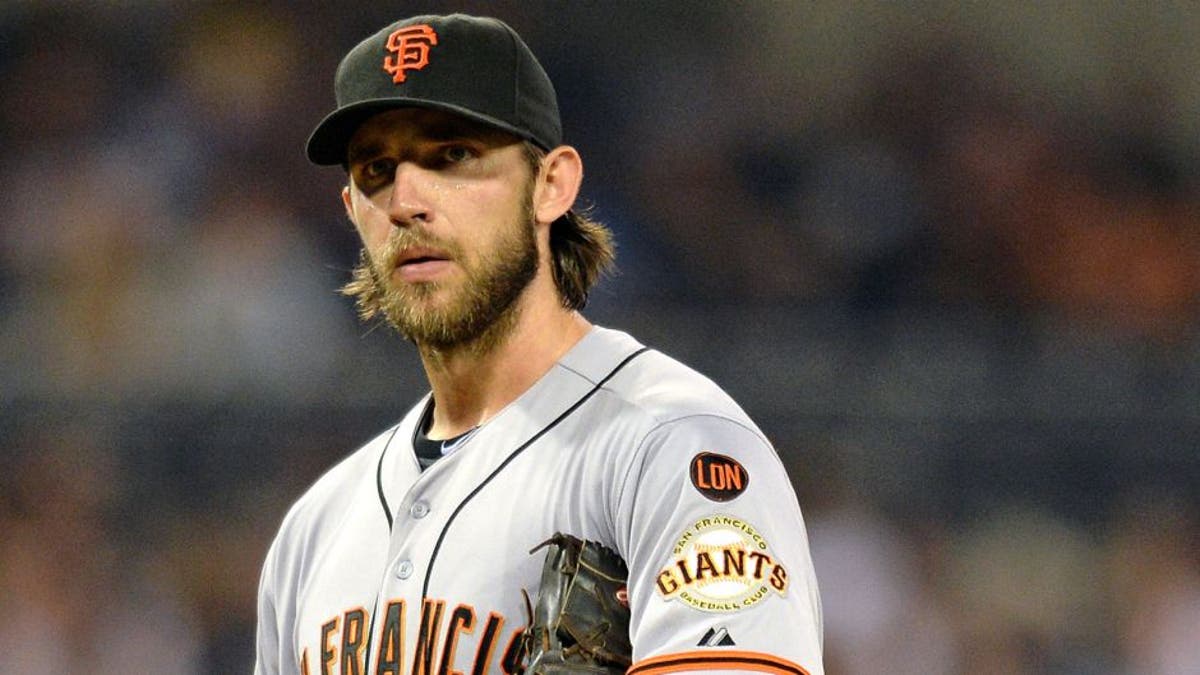 It's another #EvenYear, so we should prepare for another Giants' parade, right? A revamped rotation behind Madison Bumgarner might be strong enough to get it done.
(Note: When a player's fantasy draft status is mentioned - e.g., "he's an SP4" - the number is based on 12-team mixed leagues. ADP references are from NFBC drafts.)
ALSO SEE: TEAM PREVIEWS ARCHIVE
Key additions: SP Johnny Cueto, SP Jeff Samardzija, OF Denard Span
Key losses: OF Norichika Aoki, OF Marlon Byrd, SP Mike Leake
Projected Lineup
1. Denard Span CF
2. Joe Panik 2B
3. Matt Duffy 3B
4. Buster Posey C
5. Brandon Belt 1B
6. Hunter Pence RF
7. Angel Pagan LF
8. Brandon Crawford SS
Span had an injury-plagued 2015, but projects to hit for a very good BA (.287 career) with 20-plus steals and a bunch of runs scored. He's just outside of our top 60 outfielders ... Quite a few Giants are better real players than fantasy players, and Panik fits that description. He should again hit for a very strong BA - which is often undervalued by fantasy owners - but without power or speed, how much can he help in standard mixed leagues? ... Duffy is carrying a 12th-round ADP as the 12th-ranked third baseman, but we've got him at 3B16. He ranked 12th in FOXSports.com scoring last season, so maybe the early drafters have it right ... Posey is fantasy's best backstop by a country mile, and a solid second-round pick ... Belt doesn't stand out at his slugger-filled position, but his strong 2015 season hinted at more growth to come as long as he can stay healthy. Belt is 1B14 on our board ... Pence was a borderline top-12 outfielder here before last season, but played just 52 games thanks to a broken forearm (March), tendinitis in his wrist (June) and an oblique injury (August). You never like to see such a succession of injuries from a guy in his 30s, but let's remember that Pence played in at least 154 games in every season from 2008-14. We've got Pence at OF27 while the NFBC drafters had him at OF32 as of February 16, and both sides might be underrating him ... Pagan moves to left field and drops toward the bottom of the order in the wake of Span's arrival. He's battled injuries for three consecutive seasons and doesn't run as well as he used to ... Where did Crawford's power outburst come from? We got a hint of it in 2014, and even if he declines to 15 homers with strong numbers in runs and RBI, he'll be a top-10 SS.
Projected Rotation
1. Madison Bumgarner
2. Johnny Cueto
3. Jeff Samardzija
4. Jake Peavy
5. Matt Cain
CL: Santiago Casilla
Bumgarner showed no ill effects from his heavy 2014 workload, and even jacked up his strikeout rate to a career best of 9.65 per nine. We've got him ranked fifth among starters, in a tier that includes Jake Arrieta, Chris Sale, Jose Fernandez and Zack Greinke. MadBum is a money-in-the-bank fantasy ace ... We're not sure what happened to cause Cueto's struggles in Kansas City, but we're willing to overlook them since they were so unusual. He should be a solid SP2 ... Samardzija wasn't good last season, but moves to a better home park with a better defense behind him and doesn't have to pitch to DHs anymore. We're happy to bet on a rebound at his SP4 pricetag ... Peavy doesn't blow batters away any more, but he's been good enough as a Giant to merit deep league consideration. He's more of a non-disaster than a potential surprise, though ... Remember how durable Cain was for awhile? No longer. He's thrown 151 innings with a 4.83 ERA over the last two seasons thanks to some arm issues. "But he's MATT CAIN!" isn't a reason to bet on a rebound.
Sleeper: Pence, because we all seem to be dismissing him after one bad season. Everyone ages, but it's at least as likely that 2015 was a fluke.
Top Prospects
Christian Arroyo, SS - Arroyo is a pretty good hitter who ranks as baseball's No. 62 prospect by Baseball America. However, he's a year or two away from the big leagues, and blocked by a bunch of pretty good infielders in San Francisco. Unless Panik or Duffy disappoint, Arroyo looks like trade bait.
Clayton Blackburn, SP - Blackburn is a solid prospect who posted a 2.85 ERA in the hitter-friendly Pacific Coast League last season. He'll wait on injuries to get a rotation slot, and might be behind Chris Heston on the waiting list.