2016 San Diego Padres Preview & Fantasy Baseball Draft Prep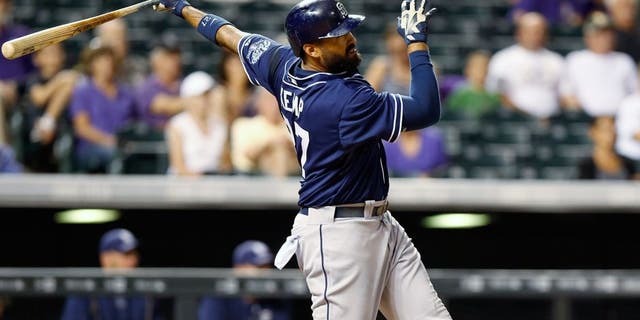 The wheeling, Padres that looked so promising a year ago now appear to be rebuilding. There are a few solid fantasy players here, but for the most part? Meh.
(Note: When a player's fantasy draft status is mentioned - e.g., "he's an SP4" - the number is based on 12-team mixed leagues. ADP references are from NFBC drafts.)
ALSO SEE: TEAM PREVIEWS ARCHIVE
Key additions: OF Jon Jay, SS Alexei Ramirez, RP Fernando Rodney,
Key losses: 1B Yonder Alonso, RP Joaquin Benoit, IF Jedd Gyorko, RP Craig Kimbrel, OF Justin Upton
Projected Lineup
1. Cory Spangenberg 2B
2. Yangervis Solarte 3B
3. Matt Kemp RF
4. Wil Myers 1B
5. Derek Norris C
6. Jon Jay/Jabari Blash LF
7. Alexei Ramirez SS
8. Melvin Upton Jr. CF
Spangenberg isn't a bad player, but he's got no power and just so-so speed. No, thanks ... Solarte is eligible at 1B/3B, and even 2B in some formats after playing 19 games there. We don't think he's an especially good corner option, but if you're considering him in a deeper league, know that Baseball Forecaster pegs his upside at .280 with 25 homers ... Kemp made lots of hard contact last season, and hit 23 home runs despite an abnormally low HR/FB percentage of 14.3. He might hit 30 homers for your reasonable, seventh-round investment ... Remember when Myers was going to be baseball's next big slugger? He hasn't been healthy since, thanks to nagging wrist issues. Myers' potential is worth his current OF5 price tag, but you should hope for those 20-25 homers instead of expecting them ... We've got Norris ranked higher than his ADP, because a catcher with double-digit homers and a (hopefully) non-terrible BA is pretty good to have ... Jay isn't a bad real life hitter, with a .287 career BA. However, he has no power or speed. Pass in 12-team mixed leagues ... The righthanded-hitting Blash has big power (.640 SLG at AAA last season) and will strike out a ton. If it starts to look like he'll platoon with Jay, NL-only owners should make him a target. Not many of your fellow owners will know much about him ... We have Ramirez ranked lower than early drafters, partly because his decent power won't play as well in San Diego. He seems to be declining, too. He's not a top 15 SS in our book ... Melvin is the Upton formerly known as B.J., in case you forgot. Bossman Junior actually wasn't terrible last season, but he shouldn't be drafted beyond NL-only leagues (or maybe really deep mixers - like 16 teams).
Projected Rotation
1. James Shields
2. Tyson Ross
3. Andrew Cashner
4. Brandon Maurer
5. Carlos Villanueva/Robbie Erlin
CL: Fernando Rodney
Shields' control went south last season, and his ERA rose to 3.91 despite a career-best K rate. He seems like a shaky bet on the SP3/4 cusp ... We wish Ross would issue fewer bases on balls, but he's still underrated. He's close to a top 25 starter, and is being drafted in Round 8 ... Cashner sure throws hard, but overall his arsenal doesn't miss as many bats as you'd like. Maybe he'll figure things out, but we probably won't draft him in 12-team mixed leagues ... Maurer was in the mix to close for the Padres last season, but he'll return to a starting role after a couple of seasons as a reliever. He's another hard thrower who had a solid 2015, and could be a cheap, interesting rotation member for your NL-only squad ... Villanueva has been used as a swingman, so let's focus on Erlin for the fifth slot. Erlin is the stereotypical crafty lefty, and he'll need to be really crafty to get by with his stuff. Even in NL-only leagues, he can hurt your ERA before losing his job ... Rodney is getting old, with declining performance and bad control. He should only be drafted if you're desperate for saves, and speculators should keep an eye on lefty Drew Pomeranz as Rodney's replacement.
Sleeper: If we have to pick one, it's Solarte. He's definitely getting better from a power standpoint.
Top Prospects
Manuel Margot, OF - The speedy Margot - who came to San Diego in the Craig Kimbrel deal - has stolen 81 minor-league bases over the last two seasons. He needs to walk more often, but his baserunning and defensive skills could have him in the big leagues later this season. Rich Wilson of Prospect 361 sees some Shane Victorino in Margot, and that's a nice compliment.
Javier Guerra, SS - Guerra was also part of the Kimbrel package, and Baseball America has him ranked as a higher prospect (No. 52) than Margot. The 20-year-old hit 15 homers in A ball last season, and is probably a couple of years away from San Diego.
Hunter Renfroe, OF - Renfroe has some pop in his bat, and it's not like there's much standing in his way in the Padres' outfield. If all goes well, he could hit 20 homers in the big leagues, sooner rather than later.