2016 Atlanta Braves Preview & Fantasy Baseball Draft Prep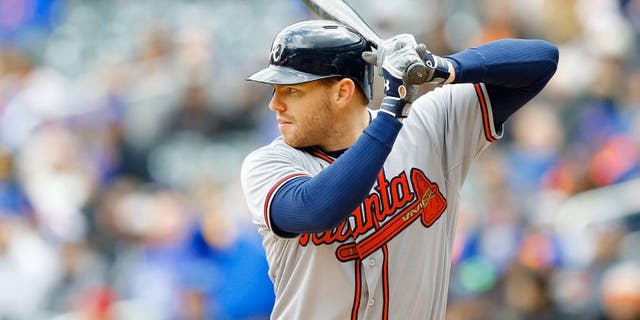 NEWYou can now listen to Fox News articles!
The Braves are in full-blown rebuilding mode, with lots of undraftable fantasy players. But they've still got Freddie Freeman, dammit!
(Note: When a player's fantasy draft status is mentioned - e.g., "he's an SP4" - the number is based on 12-team mixed leagues. ADP references are from NFBC drafts.)
ALSO SEE: TEAM PREVIEWS ARCHIVE
Key additions: SS Erick Aybar, C Tyler Flowers, OF Ender Inciarte, UT Kelly Johnson, 3B/OF, SS Dansby Swanson
Key losses: SP Shelby Miller, OF Cameron Maybin, SS Andrelton Simmons
Projected Lineup
1. Ender Inciarte CF
2. Erick Aybar SS
3. Freddie Freeman 1B
4. A.J. Pierzynski C
5. Nick Markakis RF
6. Hector Olivera LF
7. Adonis Garcia 3B
8. Jace Peterson/Gordon Beckham 2B
Inciarte has decent speed, and could be a 10-homer, 30-steal type of guy IF all goes well. He looks like an OF5 to us ... Aybar will probably bat .270 with a handful of homers and 15 steals, like he usually does. At age 32, he's more likely to get worse than better. No, thanks ... If you miss out on the big boppers at first base, Freeman will be a solid consolation prize in Round 7 or so. He was on his way to a .300, 25-homer season before hurting his wrist last June ... Pierzynski is likely to share time with Tyler Flowers, but when he plays he might bat cleanup. His power is almost gone, and he probably won't hit .300 again ... Flowers has some pop, but as a part-timer with a bad BA he's not worth your time outside of NL-only leagues ... Markakis is a nice hitter with evaporating power and no speed. In deeper leagues, he'll help some with counting stats ... Olivera signed with the Dodgers for big money last year, and was dealt to the Braves at the deadline. He's 3B-eligible, but the Braves want to make him an outfielder, and projections seem to suggest a .260-.270 BA with 12-15 homers ... Garcia flashed nice pop (10 homers in 58 games) last season, but he's almost 31 with an unimpressive minor-league track record, so a repeat is unlikely. Why isn't Olivera playing third base again? ... Don't draft Peterson in standard mixed leagues, but don't give up on him, either. He had good BAs and BB rates in the minors, and can run a little. He'll never be a star, but might become useful ... There's no need to roster the 3B-eligible Beckham unless you have a couple of injured cornermen in your NL-only league.
Projected Rotation
1. Julio Teheran
2. Bud Norris
3. Matt Wisler
4. Williams Perez
5. Mike Foltynewicz/Manny Banuelos
CL: Arodys Vizcaino
Teheran's walk rate jumped last season, and his ERA rose to 4.04. Projections seem to have him in the 3.60-3.80 range, and he's being drafted on the SP4/5 cusp, which seems right ... Norris probably isn't as terrible as last season's 6.72 ERA, but he's not worth your time in any mixed leagues ... Wisler might have a decent future, but he had a 4.71 ERA in 109 IP in 2015 and got destroyed by LHB (6.85 FIP). Pass in redraft leagues ... Perez showed a nice ground-ball rate last year, along with a bad everything else ... Foltynewicz had September surgery related to blood clots in his arm, and was shut down for most of the offseason. He told the Atlanta Journal-Constitution recently that he might only be a couple of weeks behind his teammates, but he lost plenty of weight and has hardly thrown at all. Too risky ... Banuelos might get the No. 5 slot of Foltynewicz isn't ready, but he hasn't given us any reason to be hopeful.
Sleeper: There's not much to choose from here, so let's go with Olivera, only because he's a mostly unknown quantity. He could bat .280 with 20 home runs and be eligible at 3B/OF by May.
Top Prospects
Dansby Swanson, SS – The D-backs picked Swanson first overall last year and then dealt him to Atlanta in the Shelby Miller trade. He has decent power with good speed, is regarded as a top-10 prospect by most, and could be the Braves' starting shortstop by next season.
Sean Newcomb, SP – Newcomb is a big, hard-throwing lefty who struggled with control after a promotion to Double A last season. He should be a good one, but down the road a bit. MLB.com ranks Newcomb as its 19th-overall prospect.
Aaron Blair, SP – Blair also came over in the Miller heist, er, trade. He was OK between Double A and Triple A in 2015, and even though he doesn't project to be a big-time pitcher, he's just about ready so we might see him in Atlanta this season.
Mallex Smith, OF – Smith stole 57 bases in the minors last season and 88 the year before. His stats suggest that he can draw walks, too. Maybe if Olivera shifts to third base (assuming that Garcia flops) and the Braves realize that Michael Bourn and Nick Swisher are uninspiring alternatives, Smith could get a second-half shot.