2015 Fantasy Football Team Preview: Seattle Seahawks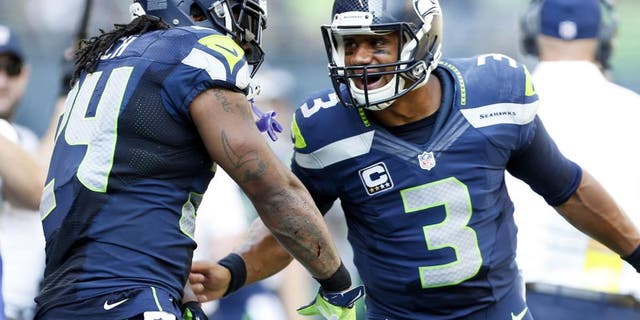 NEWYou can now listen to Fox News articles!
For your fantasy football draft prep and advice, continue to check on this page for updates regarding the Seattle Seahawks.
Team Outlook:
The Seahawks have been a top-10 scoring offense for the last three years, but the fantasy production hasn't been widespread across the offense. Marshawn Lynch has four straight seasons of at least 1200 yards and 11 touchdowns and should keep chugging along. Russell Wilson's passing attempts continue to climb, and the addition of Jimmy Graham should provide a boost, but the other receivers can once again be avoided thanks to Seattle being up in most games.
Bye Week: 9
Rookie Impacts: Tyler Lockett (WR)
The third-round pick is a long-shot to be a fantasy contributor this year, but dynasty league players should take note. Eventually, Russell Wilson will be airing it out with more frequency, and Lockett is a good route-runner who could make an impact in the slot. We're just not there quite yet.
Quarterback: Russell Wilson
Despite only 452 passing attempts, which was 207 less than Drew Brees, Wilson still managed to finish 5th among fantasy quarterbacks in scoring thanks in large part to his rushing ability (849 yards, 6 TD). While there should be some natural regression on that front, the Seahawks may be more willing to air it out in an effort to preserve Lynch for the postseason and the future. Wilson is a very safe bet for top-5 QB production.
Running back: Marshawn Lynch
Lynch has gone four straight years with at least 280 attempts, and it wouldn't be surprising if the Seahawks trimmed that number down as he enters his 10th season. Still, Lynch could very easily lead all rushers in touchdowns next season, especially since you'd think he'll get all the goal-line carries he can handle after last year's disaster in the Super Bowl. He's a perfectly acceptable first-round pick because of that, even if he declines a bit elsewhere.
Running back: Christine Michael/Robert Turbin
There are some concerns about how Robert Turbin recovers from hip surgery, which could finally give Michael an extended look. If Turbin is fully healthy, he should be the 3rd down back, while Michael should only get the leftovers. Both would become incredibly value if Lynch missed time, but otherwise, they syphon each other's fantasy value as handcuffs.
Wide receiver: Doug Baldwin
Baldwin is the No. 1 receiver for the Seahawks, but that doesn't mean he's anywhere close to the team's top receiving option. Jimmy Graham will hog targets, and it's hard to imagine Baldwin will see a substantial bump from his pedestrian 66/825/3 line last year. He's a bye week fill in and very little else.
Wide receiver: Jermaine Kearse
It's possible Kearse loses his job to Super Bowl hero Chris Matthews or even Tyler Lockett, but it's highly unlikely he'll have any real fantasy impact either way. He shouldn't be drafted, as Matthews is the better home-run pick.
Tight end: Jimmy Graham
Graham is incredibly unlikely to see the amount of targets (125 in 2014) he got in New Orleans' pass-happy system, which makes a decline almost certain. Still, he's easily the most talented tight end not named Gronk, and the Seahawks have been in need of a red zone target. The receptions and yards may not be what we've come to expect, but double-digit touchdowns are still in play at a position where that's difficult to find. Just wait longer than you're used to seeing him go.
Placekicker: Steven Hauschka
He's one of the most accurate and reliable kickers in football, and the Seahawks offense was upgraded this offseason. He should once again be a top-5 kicker in fantasy.
Team defense (D/ST): The Seahawks are one of the few fantasy defenses worth targeting a little earlier than the second-to-last round, and the Week 1 and 16 matchups with the Rams and week 15 matchup with the Browns are certainly enticing. They should be the first defense off your draft board, but don't reach.
NEXT: Check out more of our 2015 fantasy football team previews.
TWITTER: @FOXSportsFowler ' @jhalpin37 ' @FOXSportsMeyer ' @FOXSportsFoster

RANKINGS: Top 200 (PRINT) ' QB (PRINT) ' RB (PRINT) ' WR (PRINT) ' TE (PRINT) ' DST (PRINT) ' K (PRINT) 'Print Draft Kit ' PLAY FOX FANTASY FOOTBALL