2015 Fantasy Football Draft Strategy Training Camp Headlines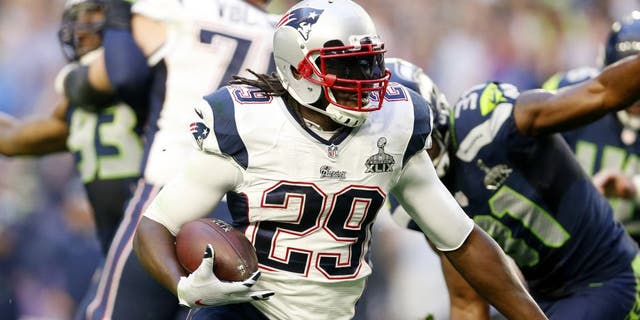 NFL training camp injuries are starting to build up with several fantasy football running backs watching from the sidelines. Here's some AFC headlines fantasy football owners hosting early-August drafts need to know:
AFC East
Patriots - LeGarrette Blount sprained his right MCL in practice on Friday. That will place him on the shelf for at least a couple weeks. This opens the door for Brandon Bolden and 2014 one-week-wonder Jonas Gray to improve reps. Fantasy owners may remember Gray erupted against the Colts, but overslept and was late for practice and in Bill Belichick's doghouse the rest of the season.
Dolphins - Rookie running back Jay Ajayi is struggling in pass protection and hurting his chances to make an impact in year one. Lamar Miller's grasp on the lead back role remains strong.
Bills - LeSean McCoy returned from a minor toe injury this week and all signs point to a big season. Why? This from NFL.com
"We'll have probably the biggest playbook in the history of man in our running game," Rex Ryan said Wednesday. "Why? Because it's important to us. We want to be multiple in the running game, and that's what Greg does. He's as multiple as ... like some people are in the passing game, we can be that way in the running game as well."
Jets - Stevan Ridley tore his ACL last October and could start the season on the PUP - missing the first six games of the season. It's Chris Ivory's backfield for now.
AFC North
Browns - The backfield is a mess with Duke Johnson and Terrance West watching due to injuries. Crowell still has the No. 1 spot for now despite the high likelihood that it turns RBBC during the regular season. The Browns signed journeyman Jalen Parmele just to get enough running backs on the field for a share of the practice reps.
Bengals - The Cincinnati Enquirer suggests that Jeremy Hill - the NFL's leading rusher the second half of the 2014 season - will receive a considerable amount of touches compared to Gio Bernard.
AFC South
Texans - The Houston Chronicle says Arian Foster's successful groin surgery could get him back on the field in 2-3 months. Pierre Thomas tried out for the team this week, but couldn't agree on terms. Chris Polk vs. Alfred Blue is the position battle to watch.

Titans - One of those do-not-touch backfields. Rookie David Cobb is struggling in pass protection, hurting his draft stock and Bishop Sankey's fantasy ceiling isn't high enough to gamble before the sixth round.
Jaguars - Repeating the previous analysis, rookie T.J. Yeldon is still working to get better with pass protection, but Gus Bradley believes he's at the very least an early-down back. Yeldon's average draft position could improve throughout August.

AFC West
Broncos - Gary Kubiak made Justin Forsett his bellcow in Baltimore last season and reiterated his intention to follow that format in Denver. So, if C.J. Anderson picks up where he left off in 2014, expect another big season for Mr. Anderson.
Chargers - Some conflicting reports surround Melvin Gordon in San Diego's camp. Some believe he's living up to the hype and draft stock and then there's the rookie's struggles in pass-protection (*sigh*). Danny Woodhead looks spry. So, the veteran back will continue to put pressure on the rookie and odds are neither will be a three-down back in the early going.

Raiders - In case you missed it, Raiders beat writer Vic Tafur joined me on the FOX Sports Team Report Podcast this week (iTunes / SoundCloud).
D.J. FOSTER BACK ON SUNDAY WITH NFC TRAINING CAMP FANTASY FOOTBALL HEADLINES