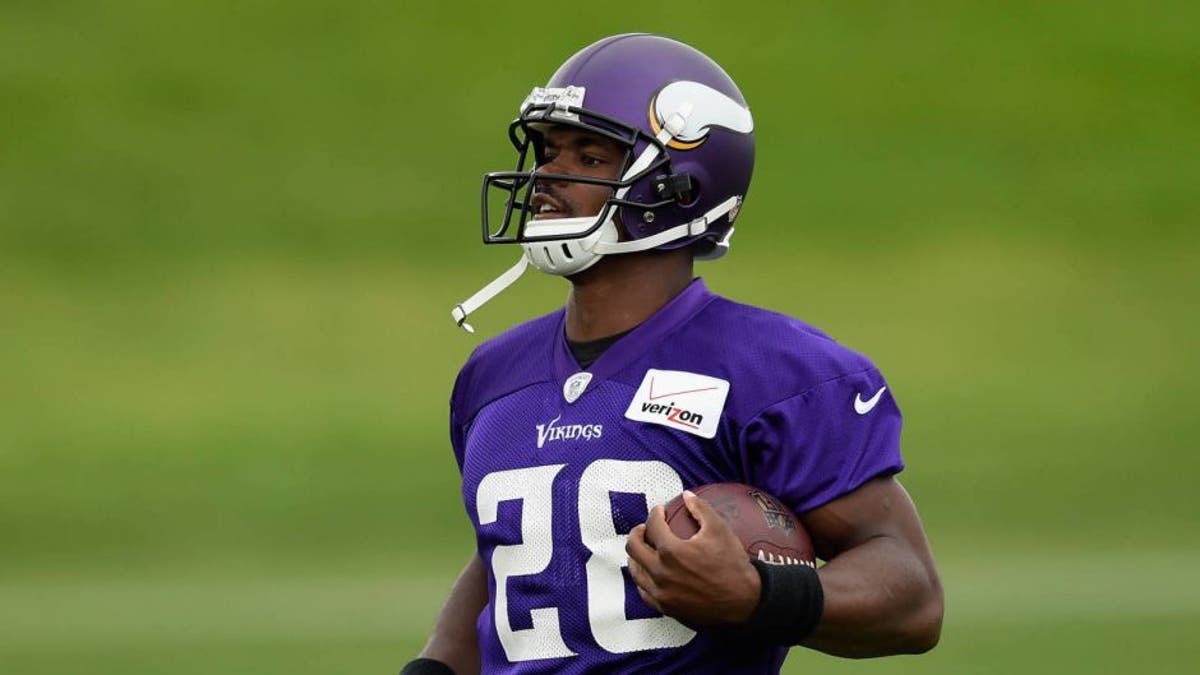 NFL training camp injuries are starting to build up with several fantasy football running backs watching from the sidelines. Here are some NFC headlines fantasy football owners hosting early-August drafts need to know:
NFC EAST
Cowboys - Darren McFadden still isn't able to practice with the team, which seems to solidify Joseph Randle's role as the lead back in Dallas. Randle is currently being drafted towards the end of the third round, based primarily on the strength of the Cowboys' offensive line.
Eagles - Nelson Agholor has the chance to be the most productive rookie receiver this season, but the word from training camp is that he isn't staking his claim to a starting job quite yet. With the Eagles looking to get Darren Sproles snaps at wideout, Agholor will need to have a strong preseason.
Redskins - You hear a lot about weight gains and losses around this time, but it's promising that Redskins tight end Jordan Reed has dedicated himself to staying healthy this season. He's a huge talent who is currently going in the 14th round of drafts, which is way too late given his upside.
Giants - The Giants look destined for a RBBC situation, but Rashad Jennings is getting the early down work with Shane Vereen playing on passing downs with the first team. Andre Williams is currently the third back, but he'll get sprinkled in as well.
NFC NORTH
Bears - Looking for a sleeper? Eddie Royal has a 14th round ADP right now, but the buzz in training camp is strong. Former Broncos offensive coordinator Adam Gase recently compared him to Wes Walker and praised his abilities out of the slot.
Vikings - Adrian Peterson is apparently not going to get carries in preseason, but fear not: Norv Turner has already said Peterson will get the "bulk of the carries" once the real games start.
Packers - Mike McCarthy called Davante Adams the MVP of OTA's, and now Aaron Rodgers is talking about getting him more opportunites. Adams is third in the pecking order behind Jordy Nelson and Randall Cobb, but his current ADP is 9.3 and he'd be a lock to return WR2 value if either Cobb or Nelson missed time.
Lions - With Joique Bell still on the PUP list (knee/Achilles), Ameer Abdullah has been turning heads in camp. This is heading towards something close to a 45-45-10 timeshare with Theo Riddick involved as well, but Abdullah has displayed the skills of a three-down back. His ADP should rise into the late fourth round, especially if Bell doesn't look good when he returns.
NFC SOUTH
Falcons - The running back battle between Tevin Coleman and Devonta Freeman will be on hold for at least the next two weeks, as both are out with hamstring injuries. The uncertainty of the situation should have both players drop in early drafts.
Buccaneers - Lovie Smith confirmed that Doug Martin will be the Buccaneers lead back this season, and apparently Martin has slimmed down and looks more explosive in camp. Tampa Bay's offensive line is still ugly, but Martin is probably worth the risk in the early 6th round.
Saints - Tight end is a tough position to fill this year, and Josh Hill is generating lots of buzz as a potential sleeper. Some of that has been dampened by training camp injuries and word that he won't fill Jimmy Graham's role, but Hill is still affordable with an 11th round ADP.
Panthers - Odell Beckham Jr. grabbed all the attention last year, but don't forget there were multiple dominant rookie receivers. Kelvin Benjamin was an absolute targets hog last year, and with no major changes to Carolina's offense, that should be true once again. He apparently looks slimmed down and more athletic in camp, which is a scary proposition.
NFC WEST
49ers - It's easy to get caught up in preseason rhetoric, but the talk around Carlos Hyde is troubling. The 49ers staff isn't committing to having "defined roles" and we can safely assume Reggie Bush will play on passing downs, which could be plentiful as the 49ers continue to lose bodies. Hyde is going to start falling a bit from his 4.3 ADP.
Seahawks - Jimmy Graham says he expects to be blocking "75 percent of the time" with the Seahawks. Going from two drastically different offenses will hurt Graham's fantasy stock, but he's still a strong bet to hit double-digit touchdowns even if he receptions plummet.
Cardinals - After dislocating three of his fingers in a brutal hand injury, you can safely move Michael Floyd down your draft board. There's no timetable on his return, although it's possible he makes it back for Week 1. John Brown is the better Cardinals WR and PPR pick, either way.
Rams - Owners who draft Todd Gurley are going to have to be patient, as Jeff Fisher said it's unlikely you'll see him in preseason. Tre Mason, who usually lasts until the end of the 7th round in early drafts, should have a big role early on.