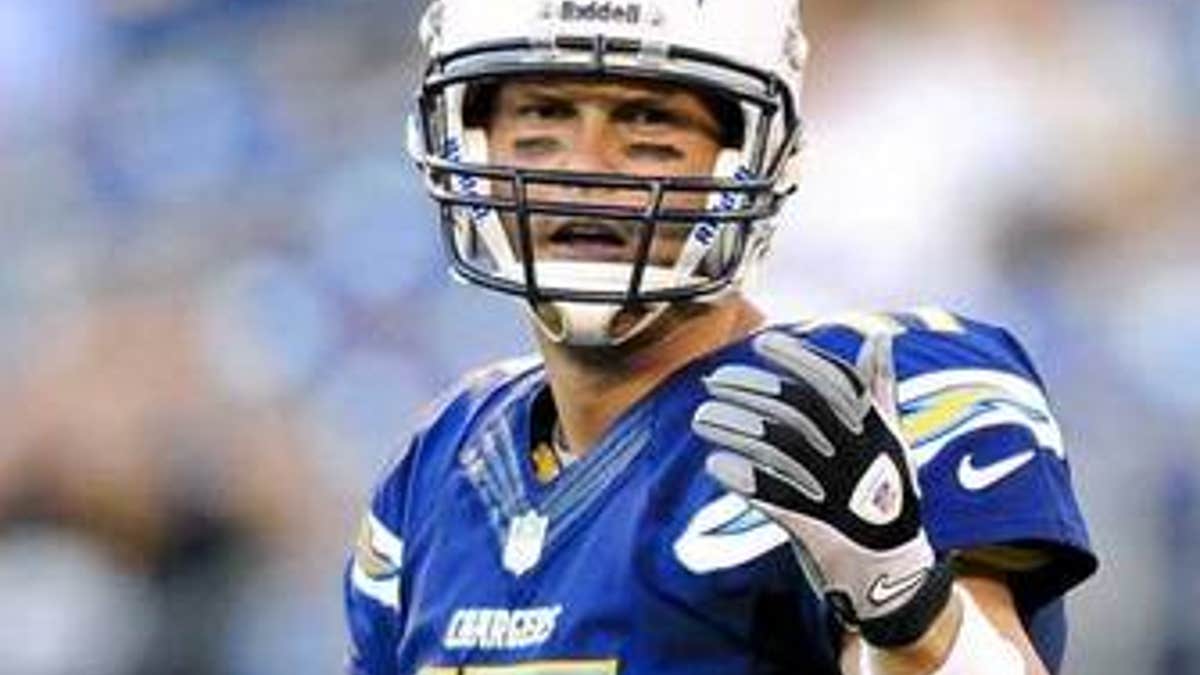 SAN DIEGO CHARGERS
2012 Record: 7-9. Missed the playoffs.
Which player is under the most pressure?
Philip Rivers was once a part of the elite quarterbacks discussion but now it seems as if his job may be in jeopardy if he can't turn it around this season. The new regime is not tied to Rivers in any way and would be justified to develop a quarterback of the future. Rivers' 47 turnovers during the last two years is second only to Mark Sanchez and his 49 sacks last season were 11 more than his previous career high. His 3,606 yards were 1,000 fewer than 2011 and his worst output since 2007.
And while it's a fairly worthless stat, his 94.5 career passer rating is the fifth-best of all active quarterbacks, but he hasn't been better than 88.7 in the last two seasons. This is a make or break season for Rivers and it isn't looking favorable as the Chargers have dealt with a rash of injuries at the receiver position, including losing Denario Alexander for the season. More on that below.
What must the team accomplish to consider the season a success?
The Chargers would be lucky to escape this season with a .500 record and anything better than that should be considered a great success. Outside of the Broncos, the AFC West is pretty awful and they catch a break with the rest of their schedule as they will be playing the 2nd easiest schedule based on wins and losses last season. Even still, I just don't see that talent on this roster to produce more than eight wins.
What is the team's biggest obstacle?
Right now it appears to be their inability to stay healthy. Antonio Gates hasn't played a full season since 2009 with a nagging foot injury but that becomes even more important as it seems almost every single one of the Chargers receivers have dealt with some type of injury this preseason. Most importantly, Denario Alexander is lost for the season after tearing his ACL and that leaves Vincent Brown and Malcolm Floyd as the two starters. Floyd has been dealing with a knee injury of his own and even though Floyd dodged a bullet with a negative MRI, he has yet to play an entire full season in his nine-year career and no one knows how prepared he will be for the regular season after missing all of the preseason action. As for Brown, he has an injury history of his own. He missed all of 2011 with a broken ankle and missed significant time in training camp due to a pulled hamstring. Even third-round rookie Keenan Allen is coming off a PCL injury that he suffered in his final season at Cal and that just covers the receivers. Throw in running back Ryan Mathews, who has missed 10 games during his first three years and you can't find one single offensive skill player who is a reliable option to carry you through an entire season.
The defensive side of the ball isn't immune to injuries either. They will be without Melvin Ingram for at least the first six games and most likely more after placing him on the PUP from an ACL tear in May. Every team has to deal with injuries in the NFL, but they are piling on in San Diego, and the team isn't really even that good to begin with.
Which rookie stands the best chance to succeed?
The Chargers have to be very satisfied with their 2013 draft class as they drafted potential stars with their first three picks. But they drafted potential and all three must mature as football players. The Chargers first pick and 11th overall, DJ Fluker is a mauler of a tackle and probably the best run-blocking tackle in the entire class, but he really struggles in pass protection and needs to work on his lateral agility. Team will look to exploit that by lining up their best pass-rusher over Fluker even if it is on the right side.
If the fake girlfriend circus surrounding Manti Te'o leading up to the draft was good for anything it was that it made people talk about that rather than his awful performance in the national championship game against Alabama. That's not to say Teo isn't a good player, in fact, I was surprised he fell out of the first round, but he does have a lot of areas of improvement at the NFL level. He needs to attack the line of scrimmage and plug the hole rather than waiting for the play to come to him ... if he doesn't do that, then he is in for a long rookie season. In the third round, the Chargers selected Keenan Allen and he may prove to be the most successful at the NFL level. Allen reminds me a lot of Vincent Jackson and may give Rivers that big body presence that he has missed since Jackson left for Tampa Bay.
What is the outlook for 2013?
The Broncos are the clear-cut favorites to win the division and I like the Chiefs as a contender for the wild card, so that leaves the Chargers to slug it out with the Raiders for last place in the AFC West. Usually I would give Rivers the benefit of the doubt, but he hasn't given me much to work with the last seasons ... but he has to be better than either Matt Flynn or Terrelle Pryor, right?