20 questions on SEC day of reckoning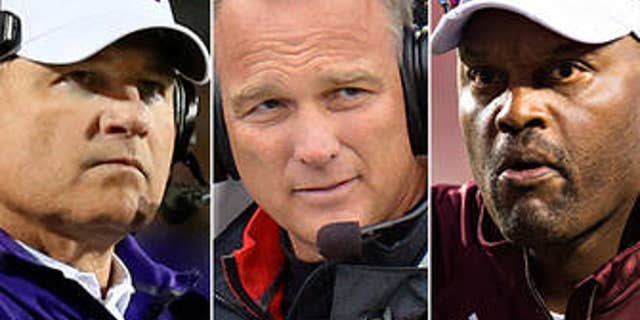 After a day in which No. 6 LSU, No. 7 Texas A&M, No. 11 South Carolina and No. 22 Florida all lost - which doesn't even account for No. 8 Louisville losing on Friday night - we can pretend like we know what the heck got into Week 8.
Or, we can admit we have no clue and instead try to dig through the pile of SEC bodies that were strewn across the country with a series of semi-coherent questions ...
Yeah, let's go with that option. After upsets completely shifted the paradigm of the Southeastern Conference, here are 20 genuine inquiries for the league's day of reckoning.
1. Does anyone - well, besides Missouri - want to win the SEC East?
Georgia would have needed some help after already losing to Mizzou, which seemed like it would come its way with tough games ahead for the Tigers. Then the Bulldogs lost at Vanderbilt Saturday.
Florida, even with its two losses already (one conference), had its entire season still ahead of it with Missouri, Georgia and South Carolina still to come. Then, of course, the Gators lost at Mizzou (UF was a three-point favorite despite being ranked lower).
South Carolina had lost to Georgia already but had opportunities ahead in games against Missouri and Florida. Then the Gamecocks lost at Tennessee.
So here we are at Week 9 now, and the Mizzou Tigers have a two-game lead in the SEC East. If they beat the Gamecocks next week at home, it would take losing at least three of their final four games for the Tigers not to make it to Atlanta and the SEC championship game. We'll see if South Carolina wants to make this race interesting by winning next week.
2. Who's had a better Year 1 at their program than Gus Malzahn?
What a first mile for the 'Gus Bus' down on the Plains. After beating Texas A&M in College Station on Saturday, Auburn is now 6-1 (3-1 SEC) and in second place in the West, one-game behind Alabama. In Brian Fremeau's most recent strength of schedule rankings , the Tigers ranked 26th in SOS and now have two very solid SEC wins (A&M and Ole Miss) with Georgia and Alabama still on the schedule.
The only other two coaches in the discussion are Oregon's Mark Helfrich and Texas Tech's Kliff Kingsbury, neither of whom have a lost a game yet. The Ducks (7-0, 4-0) have wins over Tennessee and Washington and rank second in the nation in yards per play at 8.28. The Red Raiders (7-0, 4-0) have won vs. TCU and at West Virginia, are 15th in the nation in scoring at 41.1 points/game and rank ninth nationally in yards allowed per play (4.55).
Given that Oregon's and Texas Tech's real tests are still to come, I'm giving my current Best Year 1 vote to Malzahn.
3. Did Steve Spurrier forget that timeouts are actually a form of currency?
With 2:55 to play against Tennessee and the ball on its 26-yard line, South Carolina was protecting a one-point lead. It was fourth-and-two. If there is any situation in which you wouldn't punt the ball and force the Vols - who had only four of 14 drives at that point extend more than 33 yards - to drive at least 40 yards or so for a reasonable field goal try, I can't think of it.
Spurrier, undecided, sends his offense out on the field before calling a timeout to think about it some more. After rethinking, Spurrier sends his offense back out on the field only to then burn a second timeout. After now thinking some more, Spurrier does indeed to punt the ball away. Tennessee got the ball at its own 35, and on third-and-10, Justin Worley connected with Marquez North for 29 yards, putting the Vols in field goal range at the South Carolina 26.
Tennessee immediately goes into kill-the-clock mode, calling four straight running plays that pick up two first downs and put the Vols at South Carolina's 2-yard line, which they'd boot through for a game-winning field goal. Now, none of this would matter if Tennessee didn't get lucky on the third-down bomb to North. But it did, and Spurrier was left without the ability to stop the clock and get the ball back with some time for his team to mount a drive.
In some instances, timeouts do you no good. In this case, those two TOs were extraordinarily valuable. Why did Spurrier burn TWO on a decision that seems rather obvious? Am I missing something? Can anyone make a case for going for it on fourth-and-two at your own 26 with a one-point lead that's built on a little more evidence than simply, "You have Mike Davis and he had 137 yards rushing?"
We'll never know what Spurrier was thinking in that moment. We do know that he saved one timeout, which he used to "ice" the kicker at the 2-yard line.
4. What could be worse for Georgia than losing to Vanderbilt?
The loss dropped Georgia to 4-3 (3-2), and the Bulldogs still have to play Florida and at Auburn this season. If they win out, they could potentially make the SEC title game if Missouri loses to South Carolina, Ole Miss and Texas A&M. Possible, but that outcome seems improbable.
The only thing worse would be losing to Vanderbilt and suffering yet another significant injury, which, it appears, happened. On the final play - a hopeful heave from Aaron Murray - receiver Chris Conley came down awkwardly on his ankle and reportedly needed crutches to leave the field.
Just to recap: UGA has lost WR Malcolm Mitchell (ACL), WR Justin Scott-Wesley (ACL), WR Michael Bennett (meniscus), RB Keith Marshall (ACL) and RB Todd Gurley (sprained ankle) to significant injuries this season. Pretty soon, Murray quite literally won't have anyone to throw to.
5. Can we check in with Alabama to inquire about its safety on this day of bloodshed?
Sure. Alabama whooped Arkansas 52-0. It was the Crimson Tide's 44th consecutive win against unranked teams, which is significant only as far as it illustrates how Nick Saban teams don't suffer the kind of lazy letups that happened LSU, South Carolina and Georgia on the same day.
The best part? While the SEC was busy tumbling around like it was caught in some dryer of doom this week, Alabama not only shut out the Hogs, it did so with zero turnovers and zero penalties.
Volatility is no friend of Saban's.
6. What does LSU's loss at Ole Miss do to the SEC West?
It cracks a window for ... Auburn? Yes, a small one. We won't overreact too much to Auburn's win at Texas A&M, because it still has three tough games left: at Tennessee (Neyland seems to be a tough place to win again, with South Carolina losing there and UGA needing overtime to escape), Georgia, Alabama. How great would it be if the Tigers got to the Iron Bowl with one loss and could win the West by beating undefeated Alabama?
LSU is nearly flatlined. It would need to win out plus have Auburn lose to Arkansas, Tennessee or Georgia but also beat Alabama. That'd give everyone atop the West two losses and LSU the tiebreaker.
I also don't think we'd live to see the SEC championship game, because the world would self-combust if that many forces collided simultaneously.
7. How many players does Florida need to lose before the football gods realize it's not funny?
Georgia won't offer any sympathy, but the Gators can at least relate.
Florida was without edge rusher Ronald Powell and nose guard Damien Jacobs against Missouri. It had already lost five starters to season-ending injuries. The list: RB Matt Jones, QB Jeff Driskel, DT Dominique Easley, RT Chaz Green and WR Andre Debose.
Who knows what Florida might have been with better health on the offensive side of the ball? Despite the injuries on defense, it still, incredibly, ranks 10th in the nation in yards per play allowed at 4.64. But a complete lack of offensive punch (105th in yards per play at 4.94) has left the Gators toothless and vulnerable in a league where improved offensive play has been the theme.
8. What do you think Gene Chizik's thinking?
A. "Man, good for Gus Malzahn! Shotty on the Gus Bus!"
B. "Gus, you haven't done nothin' until the NCAA is interested enough to come knocking at the door."
C. "What kind of man am I without Cam Newtown by my side?"
D. "I'm still getting more than $208,000 per month from that school, so yeah hell, War Eagle!"
9. How in the world is South Carolina's fate still largely in its own hands?
I don't know, considering the Gamecocks have already dropped two games within their own division, but it kind of is.
If the Gamecocks win out (which means at Missouri next week and home against Florida in a few weeks), they need only two pretty reasonable things to happen in order to win the East.
They need Georgia to suffer a third SEC loss (from either Florida or Auburn) and Mizzou to lose once from the Tennessee-at Ole Miss-Texas A&M trio. That would leave South Carolina and Missouri as the only two-loss teams in the East, and Spurrier would hold the tiebreaker.
One would hope he holds that more dearly than his timeouts.
10. BUT, GUYS, DOES JADEVEON CLOWNEY CARE?
Ah, I've missed that narrative trick, and it's only a couple weeks old. I'm glad we can all chill and enjoy Clowney hits again, like this one against the Vols:
11. What needs to happen for the SEC to get squeezed out of the title game?
It would probably take a ridiculous turn of events for this to happen, but here's one scenario in which it could.
Something other than undefeated Missouri represents the East in the SEC championship game. It could be one-loss Missouri, just not undefeated Missouri. An undefeated SEC champ is definitely in, but would a one-loss Mizzou go to the title game? Maybe, but its odds aren't as good as a one-loss Alabama, which is the second part of this.
Alabama needs to lose one game, at some point. It could be against LSU or at Auburn in the regular season, or it could be the SEC title game. Given the way the last two weeks have gone, it doesn't seem all that crazy to think the Tide could drop a game.
The third part: Oregon and Florida State finish undefeated. Individually, the odds of those three things happening aren't incredibly daunting. But we need to hit the parlay, which makes it a bit more unfathomable.
Still, could you imagine the fury of no SEC team in the national championship in a season in which the league hasn't been bashful about its depth and overall argument as the nation's best league? Yikes.
12. On a scale of 0-86 hours per week, how much Jameis Winston game film is Nick Saban watching in preparation of the title game?
Pretty sure Saban already has a highly-refined Word document saved on his laptop on how to discombobulate the Florida State redshirt freshman.
Now he'll have to make notes on what Winston did to Clemson Saturday night.
13. Wait - how did Gary Pinkel slip off the hot seat so easily?
Pinkel is in his 13th season at Missouri, and after going 5-7 last season in the Tigers' first trip through the SEC, many suspected Mizzou would seek change in its head coaching position. The losses were piling up and a DWI (which Pinkel plead guilty to) in 2011 surely didn't help.
So what's changed? First, the schedule.
After playing at South Carolina, at Florida, at Texas A&M and against Alabama at home in 2012, that's totally flipped. The Tigers have those first three opponents at home this season and avoid Alabama altogether. Like last season, they also don't play LSU. At Georgia was easily Missouri's most intimidating game entering this season, and it handled that rather well.
Secondly, Pinkel has found himself with a roster full of playmakers. QB James Franklin is currently injured but should return for Ole Miss and Texas A&M. In his place is redshirt freshman Maty Mauk, who's completed 55 percent of his 42 attempts against Georgia and Florida, with one TD and one pick.
Mizzou doesn't have to ask Mauk to do much more, because it has a sick backfield trio in Henry Josey, Marcus Murphy and Russell Hansbrough and plenty of weapons on the outside, beginning with L'Damian Washington and Dorial Green-Beckham. Add in a defense that ranks 33rd in yards per play and a turnover margin that's fifth-best in the country, and Pinkel has himself a squad and a bit of (momentarily, perhaps) job security for a change.
14. Look, Butch Jones said he's sorry. Can you FINALLY give him a break?
If we're talking about schedules, pour one out for Butch at Tennessee.
The Vols have already played at Oregon, at Florida and faced Georgia at home. It, predictably, lost all three. Saturday, it got No. 11 South Carolina at home and earned a great win that will have Knoxville giddy all week. Those four games are a season's worth of challenges for many teams.
So the Vols should be able tack on some more wins, get to a bowl game and celebrate a very positive first year for Jones, right? The next three weeks: at Alabama, at Missouri, vs. Auburn.
The bowl game and overall positive first year for Jones are still attainable goals for Tennessee, but they'll have to come against the country's toughest schedule.
15. Have we seen the last of Johnny Football's magic?
The Aggies have two losses. Johnny Manziel has hurt his knee and his shoulder in consecutive weeks. For a moment against Auburn, Manziel didn't think he'd be able to throw the ball and return to the game. Look:
Manziel is certainly gone after this season. Will we be treated to one more brilliant and insane moment? Let's hope it happens Nov. 23 at LSU. For now, let's move on. Life without Johnny playin' ball and acting a fool is depressing.
16. Why is it so hard to figure out Hugh Freeze's Rebels?
They won at Vanderbilt and Texas in the first three weeks of the season, which built a considerable amount of hype heading into its trip to Alabama. The Tide then began the methodical deflation of that considerable amount of hype. A loss the following week at Auburn completed it.
Then after a third straight loss - blowing a late lead at home against Texas A&M - the Rebs knock off LSU in Week 8. So, are they good? Not so good? Sort of good?
Given the way Ole Miss' season has gone, this obviously means we can lock it in for a loss against Arkansas and a win against Missouri.
17. Apropos of nothing, think Bret Bielema's liking Arkansas?
After the Hogs' latest beating, Bielema said "this is getting old."
We're not even at November in his first year in the SEC!
18. Which current SEC coach is going to be the first to leave his program?
Oddly enough, it's probably unlikely the first coach to leave is because he's fired. Bielema and Kentucky's Mark Stoops are both struggling in their first year in the league, but you'd think they would have at least two seasons to show something, probably three.
So that leaves us with the two most likely scenarios: James Franklin leaves Vanderbilt for another college gig or Kevin Sumlin leaves Texas A&M for the NFL.
I'll ride with Sumlin taking off shortly after Manziel is gone.
19. Was Week 8 a testament to the league's depth or did it simply expose some teams?
Probably both, but I think it's a bit disingenuous to claim one without the other.
Alabama is likely as good as we thought it'd be. Missouri is definitely better. Auburn is probably better but not incapable of finishing with a few more losses. LSU is very good but maybe not a top-10 team. Florida and Georgia are probably a bit worse, although that's no fault of their own; they've been crushed by injuries.
South Carolina and Ole Miss? Who the hell knows.
I don't know if there's a definitive answer to this at the moment, but it's an interesting question to examine in the coming weeks when Mizzou has the chance to lock up the SEC East and a bunch of teams can decide if they're going to finish strong or disappoint.
20. What other craziness can we root for?
If I could have one SEC wish, it would be for Auburn to reach the Iron Bowl with one loss against undefeated Alabama and then take the Tide to OT with an SEC title berth on the line.
What happens from there is up to the power of Saban and the gods.
What's yours?
THE BUZZER
Four mostly irrelevant things that happened this week.
Well, Jameis Winston was nervous before the Clemson game.
Oakland A's infielder Josh Donaldson, an Auburn guy, had something to say about Alabama fans .
Stanford's Kodi Whitfield might have made the catch of the year against UCLA. Video:
Washington State's Connor Halliday set the FBS record for pass attempts with 89 against Oregon.
NOTES FROM THE NATION
An assortment of links from around Week 8 in college football.
SEC
Special teams breakdowns doomed Georgia in Nashville , writes Chip Towers.
Beating the Bulldogs was huge for Vanderbilt, but it came with a cost , writes Jeff Lockridge.
Missouri showed why it belongs atop the SEC East , writes Vahe Gregorian.
Tennessee beat South Carolina and picked up a signature win for Butch Jones , writes David Climer.
After beating Texas A&M, the 'Gus Bus' is running at full throttle , writes Brandon Marcello.
On a day of SEC craziness, Alabama was efficient in a blowout of Arkansas , writes Michael Casagrande.
With one big kick, Andrew Rittner's dream came true , writes Hugh Kellenberger.
PAC-12
Stanford offered UCLA a taste of the tough competition to come , writes Helene Elliott.
USC held everything but the lead in a messy loss at Notre Dame , writes Gary Klein.
Oregon countered a Washington State barrage with its usual offensive onslaught , writes Ryan Thornburg.
The blame for Washington's dud at Arizona State begins with Steve Sarkisian , writes Jerry Brewer.
The breakout win puts Arizona State in good position in the Pac-12 South , writes Doug Haller.
Ka'Deem Carey carried Arizona past Utah , writes Anthony Gimino.
BIG 12
The win at Kansas was great, but Oklahoma still has issues , writes Jenni Carlson.
Oklahoma State beat TCU because Josh Stewart was the best player , writes Berry Tramel.
The Red Raiders rallied to remain perfect on the season , writes Don Williams.
Baylor became bowl eligible with win No. 6, but nobody is celebrating that , writes John Werner.
TCU's offense came late to the party again , writes Stefan Stevenson.
ACC
Behind a lot of Jameis Winston, Florida State crushed Clemson , writes Brendan Sonnone.
Winston solidified his stardom by overwhelming Clemson, writes Tim Rohan.
The Seminoles made a huge statement right before the first BCS standings release , writes Tom D'Angelo.
In their first meeting as conference opponents, Georgia Tech crushed Syracuse , writes Ken Sugiura.
Wake Forest had its way at home against Maryland, writes Dan Collins.
Duke scored 35 unanswered points to beat Virginia and improve to 5-2, writes Laura Keeley.
BIG TEN
Northwestern continues to spiral, losing its third straight game , writes Teddy Greenstein.
Michigan beat Indiana and set a handful of offensive records in the process, writes Mark Snyder.
Purdue kept it close but ultimately couldn't beat Michigan State , which improves to 6-1, writes Josh Mansour.
Ohio State regained its balance in a win over Iowa, writes Bill Rabinowitz.
Against Illinois, Wisconsin showed how to handle an inferior opponent , writes Jeff Potrykus.
OTHERS
After Notre Dame beat USC, Stephon Tuitt explained his recent NFL comments , writes Brian Hamilton.
An early shootout with BYU turned into heartbreak for Houston , writes Joseph Duarte.
Ball State beat Western Michigan to remain undefeated in the MAC , writes Doug Zaleski.
Jordan Lynch ran for 316 yards, an FBS record for QBs , as Northern Illinois stayed unbeaten, writes Steve Nitz.
The original article can be found at FOXSports.com: 20 questions on SEC day of reckoning.