19-year-old Northcutt returns at UFC Fight Night: VanZant vs. Calderwood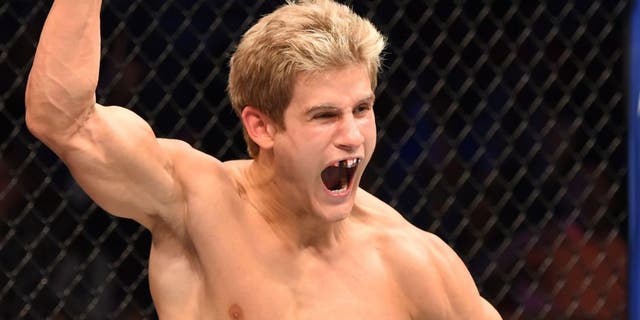 NEWYou can now listen to Fox News articles!
Nineteen-year-old phenom Sage Northcutt will see his second action inside the Octagon on Dec. 10 as part of the same card featuring 21-year-old Paige VanZant in the main event.
Northcutt will face two-time UFC veteran Cody Pfister on the upcoming UFC Fight Night card from the Cosmopolitan in Las Vegas, airing live on UFC Fight Pass.
UFC officials announced the new fight on Monday.
VanZant headlines the show in her first main event as she faces "Ultimate Fighter" veteran Joanne Calderwood.
Northcutt has become one of the most talked about fighters in the UFC in recent months after signing with the promotion and making a blistering debut just a couple of weeks ago in Houston, where he tore through Francisco Trevino in just 57 seconds.
Recently, Northcutt traveled from his home in Texas to Montreal, Quebec, Canada to begin training with the Tri-Star gym where he will work alongside former welterweight champion Georges St-Pierre and top-ranked contender Rory MacDonald as well.
Pfister is 1-1 in the UFC thus far, with his latest victory coming at UFC 189 in July where he earned a unanimous decision over Yosdenis Cedeno.
Northcutt vs. Pfister joins an already incredible fight weekend with the UFC Fight Night card on Dec. 10 followed by "The Ultimate Fighter" finale on Friday night, which airs live on FS1 and then UFC 194 on Saturday night headlined by featherweight champion Jose Aldo against interim champ Conor McGregor.