19 days until the Daytona 500, here's a history of the No. 19 in NASCAR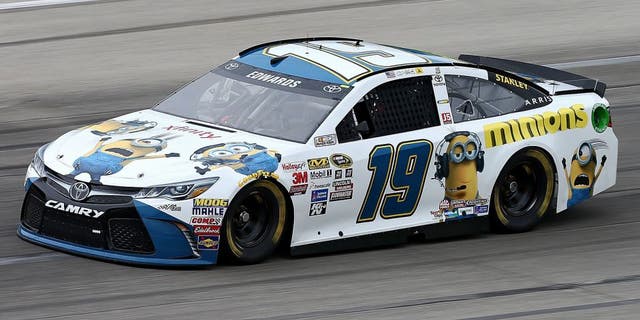 The No. 19 has been in NASCAR for a very long time. Unfortunately, though, it isn't a number that enjoyed much success, at least not until Joe Gibbs Racing started a fourth team this year, with Carl Edwards driving the No. 19 JGR Toyota.
In 36 starts on the 2015 season, Edwards won two of the biggest races of the year, the Coca-Cola 600 at Charlotte Motor Speedway and the Bojangles Southern 500 during the remarkable throwback weekend at historic Darlington Raceway. Edwards went on to finish an excellent fifth in points, a solid first season with JGR.
To put that into context, Edwards has driven the No. 19 in 36 points races and won twice.
Prior to Edwards taking over the No. 19 this year, 88 other drivers made a total of 1,316 NASCAR Premier Series starts, with just two of those 88 combining to win three races.
The first winner in the No. 19 was John Rostek, who drove a 1958 Ford to victory in the 1960 Copper Cup 100 at the Arizona State Fairgrounds in Phoenix.
Never heard of Rostek?
Don't feel bad. The Fort Collins, Colorado, native made just six NASCAR Premier Series starts: five in 1960 and one more in 1963.
The next driver to win in the No. 19 was Jeremy Mayfield, who clinched a spot in the inaugural Chase for the NASCAR Sprint Cup in 2004 with a dramatic victory in the final season of the Cup regular season at Richmond International Raceway.
Mayfield won the Richmond race in one of Ray Evernham's No. 19 Dodges and would win again the next year at Michigan International Speedway.
From there, though, no one won in the No. 19 until Edwards this year.
Today's bar bet question: Who was the very first driver to compete in the No. 19 in a NASCAR Premier Series race?
Answer: Otis Martin finished 20th in a Ford in the very first NASCAR Strictly Stock race at the old Charlotte Speedway on July 19, 1949.
By The Numbers, for No. 19 in the NASCAR Sprint Cup Series:
Starts: 1,352
Wins: 5
Wins by driver: Carl Edwards, 2; Jeremy Mayfield, 2; John Rostek, 1.
Top fives: 62
Top 10s: 248
Poles: 13
Average start: 22.10
Average finish: 20.52
Drivers: 89