10 takeaways from a very busy week in the NFL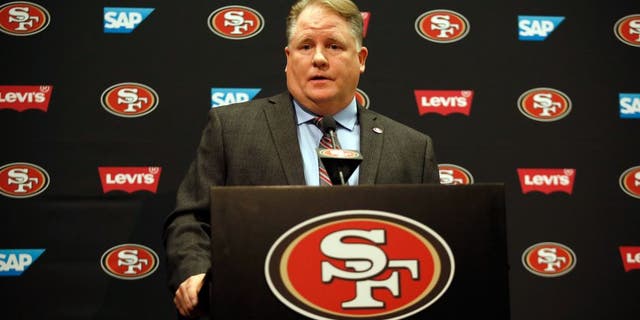 I'm back from four days in Boca Raton, Florida, at the NFL's annual league meetings. Whereas the Combine is a free-for-all with every scout, coach, agent, and media member, the league meetings are limited to NFL owners, presidents, general managers, head coaches, and a sampling of media and league employees. A lot came out of the week in Florida -- both on the record and off. Here are my 10 takeaways:
1. China is real.
The NFL wants to go to China for a regular-season game. With London getting three games this year and Mexico City another, China is next on the agenda. What's been made public is a desire for 2018 as the target date for a game. Sources tell me the Los Angeles Rams and another West Coast team would be the likely parties involved, if approved. Furthermore, I'm told one idea proposed was a Week 1 game played in China that would air Friday night in America. That'd make for a game Thursday, Friday, Sunday, and Monday of opening weekend.
2. Chip versus Howie isn't going away anytime soon.
When Chip Kelly was abruptly fired by Eagles owner Jeffrey Lurie prior to Week 17 of the 2015 season, there was lots of speculation as to what really went down between him and the Philly front office behind the scenes. Kelly didn't have a farewell press conference (duh) and didn't speak at the Combine. This week marked the first time he'd be A) discussing his side of the story publically and B) facing the Philadelphia media since it all went down.
Howie Roseman's back in control of personnel, Chip is now in San Francisco, and the two weren't exactly exchanging pleasantries in Florida. Kelly spoke to reporters on Wednesday, and said the reason he was fired was because he didn't win. Plain and simple. When asked about some of the contracts signed last year, Kelly insisted he was not the one who paid since-exiled one-year-project Eagles DeMarco Murray and Byron Maxwell their larger-than-life salaries for the 2015 season. He evaluated the talent and brought them in, yes. But those deals, according to Kelly, were worked out by Roseman.
3. Full-time coaches want full-time refs.
It'd be one thing if one head coach mentioned this in passing. It's another when multiple very prominent head coaches go on the record and insist it's something the NFL needs to address. As approved in their most recent contracts with the league, NFL officials still are only part-time, meaning many of them can have full-time jobs Monday through Friday, and fly in for the weekend to do games. Ed Hochuli is a lawyer, Gene Steratore is a basketball referee, and Mike Carey used to run a ski equipment company while he officiated on the weekends. John Fox, Pete Carroll, and Bruce Arians were all very vocal about this. If we want the best officiating, these guys have to be full-time.
4. Many NFL head coaches are not fans of the NFL's newly approved ejection rule.
The Competition Committee discussed, but the owners were the ones really pushing this. Giants owner John Mara spoke about the "two personal fouls leads to an ejection" rule after it was approved, and he really pushed the word "sportsmanship." Mara said the Cincinnati-Pittsburgh playoff game -- where Adam Jones and Vontaze Burfict and Joey Porter made more headlines than the game itself -- was just one instance of the game looking bad in front of a nationally televised audience. He noted the sack celebration he saw this past season where a player hovered over a knocked out opponent and motioned that he had put him to sleep.
This all looks good on paper -- two personal fouls and you're out of the game -- but there's already been pushback from coaches. Many I spoke with said that this could lead to targeting and baiting a player who has one personal foul and trying to get him to commit another. One source called it a "goon scenario" like you see in hockey where you have certain guys -- a Sean Avery-type perhaps, NHL fans -- who's on the field to just instigate and get under the skin of the player with one personal foul. NFL head of officials Dean Blandino spoke to Sports Illustrated's Peter King about the rule and said the following:
It was approved for one year. We'll see if anyone's baited into a second personal foul.
5. Bill O'Brien was no Don Draper when it came to Brock Osweiler.
O'Brien did his research on Osweiler, yes. He told reporters that he spoke with many of Osweiler's former coaches and did a thorough analysis of his tape both from the pros and his days at Arizona State. But there was no sales pitch. There was no meeting. There was no phone call. Osweiler's agent Jimmy Sexton spoke exclusively with Texans GM Rick Smith and $72 million later, the deal got done on the first day of free agency.
6. The Rams are dealing with more than football this offseason.
I spoke with Jeff Fisher for a solid 30 minutes and we barely talked football. It's one thing to uproot a player in the offseason. It's another to uproot an entire team. One of the interesting notes Fisher made was just how green his team is to the city of Los Angeles. In picking where to live, they need to know that there are "traffic patterns," and Fisher said you can't live in Orange County and work in Thousand Oaks. It's just not logical. He says there's a good crew of people -- both working within the organization and consulting with them -- helping with the transition. Fisher, amazingly, has been through one of these moves before, bringing the Houston Oilers to Memphis in the Titans' first season.
7. Carson Wentz is the real deal. Jared Goff is darn good, too.
The NFL Draft is still a month away, but multiple head coaches and GMs raved to me off the record about both quarterbacks. One coach said they're two of the smartest quarterbacks he remembers coming out of the Draft in recent memory. Goff is slighter but might have the better footwork. He's a three-year starter. Wentz is bigger but might be more mobile. He's played in just twenty collegiate games. Either way, they're both going to be highly coveted come April 28.
8. The Patriots apparently were the ones who initiated the Chandler Jones trade to Arizona.
The Cardinals traded 2013 first-round pick Jonathan Cooper and a second-round pick to the Patriots for Chandler Jones last week. How'd it all go do down? Well, you're never going to get much out of Bill Belichick on anything, but Bruce Arians shared a little insight on Wednesday.
"I was shocked," he said. "(General manager) Steve Keim did an unbelievable job working with (the Patriots) and finding the right fit in the trade. We went into the offseason wanting to improve our pass rush. Free agency wasn't what we were looking at as far as dollars for certain guys. That cured us for a long time. They got something they needed. We got something we needed. I think it was a great trade for both sides. I think Steve got a call, and they gradually started talking and things built and built and built."
9. Joe Lockhart is the newest power player in the NFL.
In January, the league announced that Joe Lockhart, the former Press Secretary to President Bill Clinton from 1998-2000 (during the Monica Lewinsky scandal), was joining the commissioner's cabinet of advisors as the new EVP of Communications. A master of messaging, Lockhart has a D.C. background, but also spent some time working directly with Mark Zuckerberg at Facebook. This week, the New York Times published a scathing investigative report on the NFL's dealings with the tobacco industry and their own dealings with concussions. Swiftly and rather strongly, the NFL answered with multiple documents and statements that not only presented its side of the story, but took on the Times directly. The NFL's been an easy target for years, and in some cases, perhaps rightfully so. I'd imagine messaging and responses from the commissioner's desk to take on a different tone with Lockhart at the helm. We already saw that this week.
10. The Bills quarterback situation is one to watch this month.
Tyrod Taylor is entering the final year of his contract and is set to make somewhere between $1 and 1.4 million. Good money if you can get it, but it's not starting quarterback money. As of now, Taylor's agent and the team are at a bit of an impasse. Buffalo has the 19th pick in this year's draft. Don't be shocked if they take a quarterback at some point, even if just as insurance.