10-run 4th keys D-backs' blowout of Rockies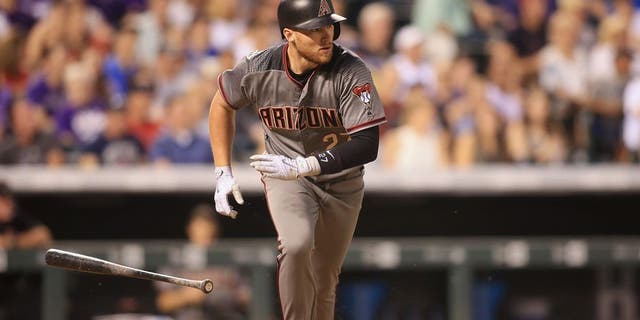 NEWYou can now listen to Fox News articles!
DENVER -- Wanting to give his team a little bit of a break on a broiling day in Denver following a tough loss the night before, Arizona Diamondbacks manager Torey Lovullo had his players skip pregame batting practice in favor of staying inside to do individual work in the batting cages.
And when they finally took the field, they came out swinging.
Taijuan Walker pitched six solid innings and slapped an RBI single during Arizona's biggest inning ever on the road -- a 10-run fourth -- and the Diamondbacks went on to beat the Colorado Rockies 16-5 on Wednesday night.
"We pulled the guys off the field to hit in the cages to keep them rested, keep them strong," Lovullo said. "So they were ready. I know they were in here working really hard and it translated. I don't know exactly if hitting in here had something to do with the production. I just think the guys were ready for the challenge."
Shaking off Tuesday's tough loss in which Colorado rallied late for a one-run win, the Diamondbacks sent 14 men to the plate and pounded out nine hits, including a two-run double and RBI single by Brandon Drury in his two at-bats in the inning. Drury finished with four hits and a career-high six RBIs and the Diamondbacks established season highs in run and hits (20).
"No game is over here in Colorado but that 10-run inning, we could kind of relax a little bit, so it was huge for the team," Drury said.
David Peralta and Paul Goldschmidt also connected for two hits in the inning and combined for three RBIs, helping the Diamondbacks snap the Rockies' winning streak at six games and setting up Thursday's match between the NL West rivals as the decisive game in the series.
"I think the backbreaker was the pitcher (getting an RBI hit). From there, it sort of unraveled," Rockies manager Bud Black said.
The Los Angeles Dodgers, Rockies and Diamondbacks are all bunched at or near the top of the division and among them have the best records in the NL.
Nick Ahmed added a two-run homer off reliever Carlos Estevez in the seventh. Goldschmidt collected three hits and three RBIs and Peralta had four hits and an RBI.
Walker (6-3), who had eight strikeouts, allowed three runs and six hits, including a solo home run by Mark Reynolds in the second. He has not allowed more than three earned runs in any of his seven starts on the road this season and perhaps most importantly did not allow the Rockies to score after Arizona's big inning.
"I think that's the biggest thing for us pitchers, because our offense is really good, so when we score a lot of runs, as a pitcher you want to go out there and have those shutdown innings," Walker said. "I think those are the innings that win games for the team."
Jeff Hoffman (4-1) could not get out of the fourth inning in taking his first loss of the season. He allowed nine runs and eight hits in 3 2/3 innings.
"It was one of those things where I was not making good pitches and they were doing what they were supposed to do with them," Hoffman said. "I'm one to try to move on to the the next pitch. Unfortunately, I wasn't able to do that tonight."
Nolan Arenado had a two-run double for the Rockies in the fifth.
SCARY MOMENT
A seventh-inning fastball from Estevez skipped off the left hand of Chris Iannetta as he dropped to the ground and smacked into face mask of home plate umpire Andy Fletcher, knocking it askew. Fletcher and Iannetta, who was struck in the mouth by a pitch May 12 and went on the 7-day concussion disabled list, were both checked by team trainers.
Iannetta, who narrowly avoided being hit in the head again, remained in the game and Fletcher finished calling the top of the seventh. But Fletcher, apparently still feeling some of the effects from taking a pitch to the head, left the game midway through the seventh and second base umpire Ron Kulpa moved behind the plate to call balls and strikes the rest of the way. In a statement released by the Rockies, officials said Fletcher was being evaluated for a concussion and would not work Thursday's finale.
TRAINER'S ROOM
OF Yasmany Tomas, on the 10-day DL with right groin tendinitis, continues to take batting practice and engage in light running and throwing but there's still no word on when he will return.
UP NEXT
Diamondbacks: RHP Zack Godley (2-1, 2.34 ERA) has allowed three or fewer runs in each of his eight starts this season.
Rockies: The win total by rookie RHP Antonio Senzatela (9-2, 4.10 ERA) ranks second in the NL and he has been successful at Coors Field, where he has gone 7-1 in eight starts.