10 best NFL quarterback situations going into 2016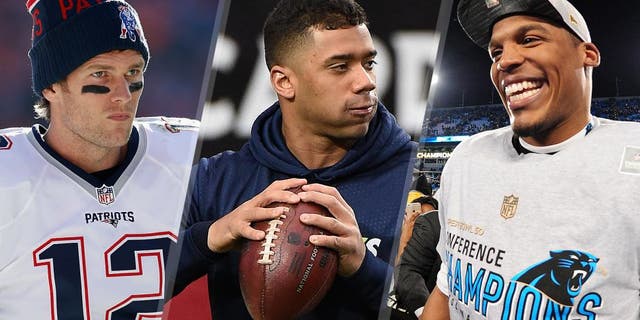 NEWYou can now listen to Fox News articles!
It's all about the man under center.
Sure, Peyton Manning just won a Super Bowl and anyone who looked at his stat line in 2015 would have have to stifle a vurp (vomit + burp). However, that doesn't and shouldn't diminish the importance of the quarterback in today's game. After all, not everyone gets the luxury of having a defense as dominant as the the Broncos.
Some teams are doing a lot better than others when it comes to this. So, let's run down the Top 10 quarterback situations for the 2016 season.
1. New England Patriots
Tom Brady got tenderized like a piece of schnitzel on national television just weeks ago in the AFC Championship Game. But those bruises on his body will heal and despite his advanced age, you can rest assured that Brady will come back with a vengeance in 2016. He's got the motivation and the tools around him for another title run.
2. Seattle Seahawks
Wilson was a different quarterback over the final half of the 2015 season. With Marshawn Lynch out with an injury, the fourth-year quarterback started slinging the ball from the pocket like an All-Pro and managed to cross the 4,000 passing yards plateau for the first time of his career. Wilson has shown to be as dedicated and obsessed with success as any quarterback to play in the NFL and it will be exciting to see the kind of leap forward he takes next season.
3. Green Bay Packers
The fact that the Packers had almost zero talent on the outside, a sieve-like offensive line, an overweight running back and still managed to reach the NFC Divisional Round this season is a testament to Rodgers. Only he can throw 31 touchdown passes with 8 interceptions and have people call his season disappointing.
4. Carolina Panthers
Cam Newton might have pouted a tad after his Super Bowl 50 loss but nobody can deny that the newly crowned league MVP doesn't have the goods. This team feeds off No. 1 and with an offseason to replay his big loss in his mind, let's see how hot Cam will run next season.
5. Arizona Cardinals
Carson Palmer played one of the worst games -- if not the worst -- of his career in this season's NFC Championship Game. That being said, the veteran threw for more than 4,500 yards in 2015 along with 35 touchdown passes. There's no reason to think Palmer doesn't have another run in him. Hopefully, he'll be a tad more buttoned up in the postseason.
6. Pittsburgh Steelers
Who knows, if Big Ben had Le'Veon Bell behind him and Antonio Brown to throw to during his team's AFC Divisional playoff game, it might have been the Steelers facing the Panthers in Super Bowl 50. Ben Roethlisberger threw too many interceptions last season (16), but a check of his past stats shows he only throws more than 10 interceptions during odd numbered years. As is obvious, 2016 is an even number.
7. New Orleans Saints
Drew Brees is another quarterback who is up there in years, but he's still the same talented guy. People thought he had a down year in 2015 and he still almost reached 5,000 passing yards and had 32 touchdown passes. Does that look like a man slowing down to you? Now, if the Saints could just find a defense ...

8. Indianapolis Colts
Matt Hasselbeck probably won't be around to save the day in 2016, but one person who will be is Andrew Luck. It's a shame that 2015 turned into a lost season for the young quarterback, who played seven games before suffering a lacerated kidney. He missed the remainder of the season and the Colts missed the playoffs. Remember, he threw 40 touchdown passes in 2014, so a healthy Luck can sling it all over the field.
9. San Diego Chargers
The Bolts have all kinds of issues: injury issues, stadium issues, running back issues, you name it. One thing they don't have is a QB issue. Rivers continues to do his thing and as putrid as the Chargers were at points in 2015, Rivers still threw for 4,792 yards with 29 touchdown passes this season. You can always count on him.
10. Atlanta Falcons
Don't be fooled by Matt Ryan's 16 interceptions -- to just 21 touchdown passes -- in 2015. The Falcons had horrible issues along their interior offensive line this past season, which forced Matty Ice to run for his life and make some bad throws. What's more, he didn't have anyone aside from Julio Jones to throw to. Atlanta is doing just fine at the QB position and if the front office can fill some holes, you can expect Ryan's numbers to even out.