'Zombie star' keeps exploding, refuses to die, astronomers say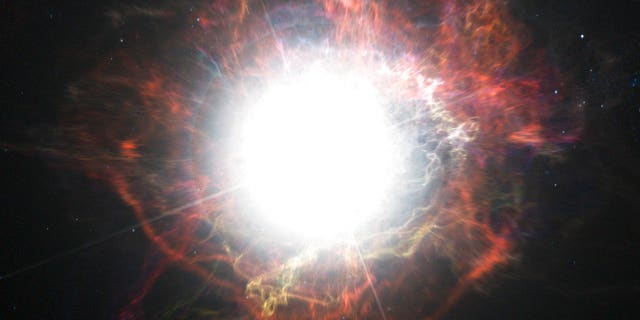 A supernova that "cheated" death more than once is baffling astronomers — and still refuses to die. It's exploded twice already, but 1,000 days later, its light still continues to shine.
The star, dubbed the "zombie star," was first discovered by astronomers in 2014 when it exploded — the first sign of its death, according to a report published by Nature, the international journal of science, on Wednesday. A supernova typically shines for about 100 days after the explosion before it fades into a neutron star or a black hole. But the iPTF14hls star that is 500 million light-years away — one light-year is equal to 5.9 trillion miles — didn't follow that trend.
"It's very surprising and very exciting," astrophysicist Iair Arcavi of the University of California, Santa Barbara, who is leading the study, said in the report.
OLDEST SPIRAL GALAXY EVER SEEN MAY REVEAL SECRETS ABOUT THE MILKY WAY
"This [zombie star] just really blew away everything we thought we understood about them."
Astronomers didn't give much thought to the zombie star in 2014. An intern assigned to look at the zombie star then spotted the inconsistency about five months later. Astronomers at the California-based Las Cumbres Observatory saw the star appeared to get fainter, but then brighter a few months later. It continued the pattern five times.
Evidence gathered around the supernova's surrounding area also showed it exploded once in 1954.
"We thought we've seen everything there is to see in supernovae after seeing so many of them, but you always get surprised by the universe. This one just really blew away everything we thought we understood about them," Arcavi said.
WHAT DARWIN CAN TELL US ABOUT ALIENS
Arcavi added that they never saw two supernovae happening in the same exact spot before. Two theories have been floated about the latest discovery. The star, which was previously 100 times larger than the sun, was so big and hot in its core that the previous explosion only blew away its outer layers, but left the core intact. The star was then able to repeat the process again.
Another theory is that it could be multiple explosions occurring so frequently that they run into one another or perhaps a single explosion that repeatedly gets brighter and fainter, though scientists don't know exactly how this happens.
Avi Loeb, the astronomy chairman at Harvard University who is not involved in the study, believes it could be a black hole or magnetar — a neutron star with a strong magnetic field — that is causing the star to live.
OCEANS ON JUPITER? GAS GIANTS MIGHT START OUT AS 'STEAM WORLDS'
Arcavi and his team are expected to continue observing the zombie star with the Hubble Space Telescope next month. The astrologist added this could be a common scenario in outer space, but the first they are studying.
"We could actually have missed plenty of them because it kind of masquerades as a normal supernova if you only look at it once," Arcavi said.
Although the zombie star seems invincible, it will die at some point.
"Eventually, this star will go out at some point," Arcavi said. "I mean, energy has to run out eventually."
The Associated Press contributed to this report.