Woman in Texas catches 8-foot 'dream' tiger shark, wild photos show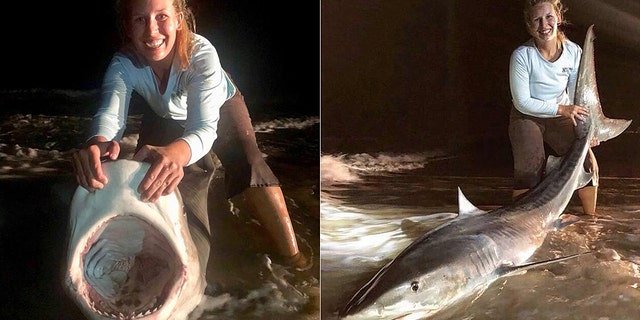 A woman reeled in her "dream" tiger shark off the coast of Corpus Christi, Texas over the weekend, the South Texas Fishing Association announced Monday.
Sierra Tomlinson caught the 8-foot 3-inch male tiger shark on Saturday night, she told Fox News.
"Congrats to Sierra Tomlinson on landing her dream shark," the association said in statement on Facebook, adding the shark was "safely released" after photos and measurements were taken.
'VEGETARIAN' SHARK DISCOVERY: FIRST OMNIVOROUS SPECIES OF SEA PREDATOR STUNS SCIENTISTS
"I just wanted to cry. I was so amazed -- it's such a beautiful animal and was really cool to see one in person," Tomlinson told Fox Wednesday about her reaction, adding it took her roughly 30 minutes to reel in the creature.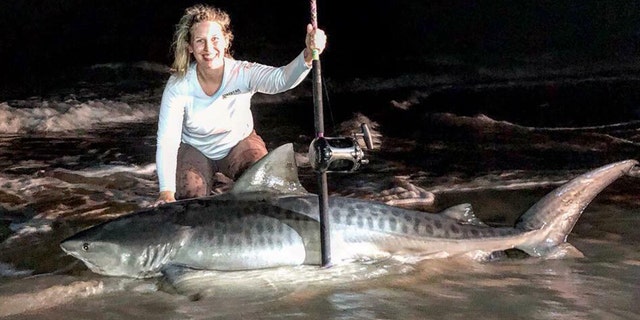 Tomlinson, who catches and releases sharks with her husband on a volunteer basis for the Marine Biology Department at Texas A&M University, said she enjoys representing women in a heavily male-dominated sport.
"You rarely see women fish for big sharks," she said, "It's really cool to see more women do more with the fish."
The news comes after scientists with the University of California Irvine and Florida International University announced earlier this month they have identified the first omnivorous shark species.
SHARK IN SHALLOW WATER REPORTEDLY SPOOKS BEACHGOERS ON NORTH CAROLINA'S BALD HEAD ISLAND
In addition to eating small fish and crabs, the bonnethead, the smallest member of the hammerhead family, also eats seagrass, the experts found.
Fox News' James Rogers contributed to this report.