Wolf kills cow in California for the first time in more than 100 years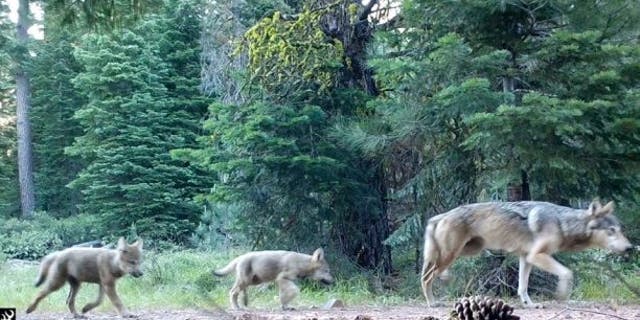 A wolf killed a cow in California for the first time in more than one hundred years, the Sacramento Bee reports.
A wolf killed a heifer on private property in Lassen County earlier this month, according to the California Fish and Wildlife Department.
"Based on GPS-collar locations, the wolf LAS01F was present at the site at midnight, 3:00 AM, and 6:00 AM on 10/13," the agency said in a report. "While staff were investigating the site, the wolf was on a forested slope approximately 620 meters from the carcass."
"The location and nature of the bite marks and the significant associated tissue hemorrhaging are consistent with attacks by wolves," the report explained. "Many of the bite marks penetrated tissues to a depth of approximately 1.5 inches."
The wolf was part of the Lassen Pack, the Bee reported.
The state has also looked into the deaths of another four calves owned by the rancher, Wally Roney, with one considered a "possible" wolf kill, the newspaper said.
Roney reportedly attributes all five deaths to the pack.
Though wolves were killed off in California in the 1920s, they have come back to the state in recent years.
The Associated Press contributed to this report.