Winning bid for Anne Frank poem stuns auctioneers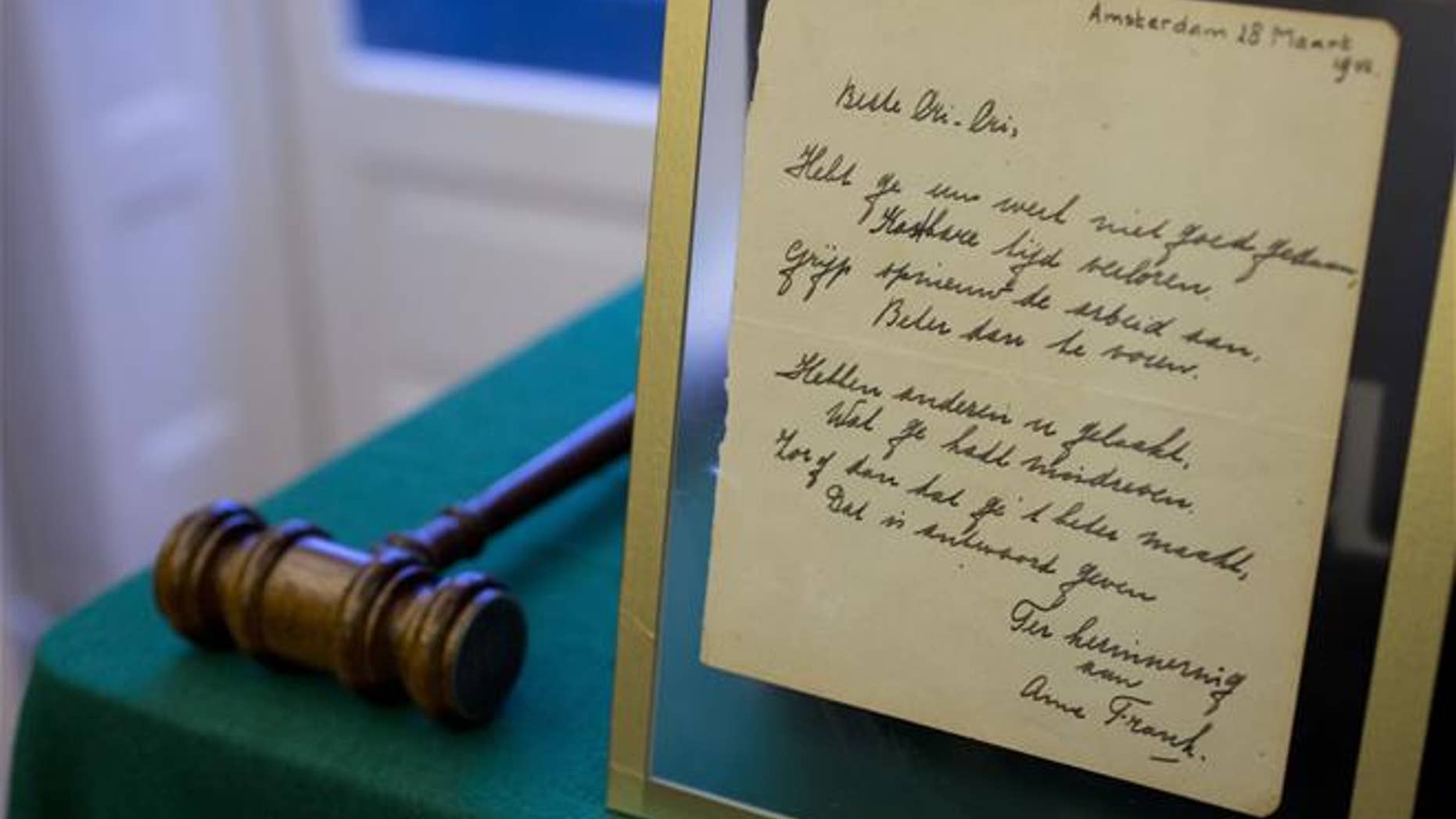 The Netherlands' Bubb Kuyper auction house expected the eight-line poem on a piece of old paper to sell for thousands. They just didn't expect to go for $148,000.
For that price, an anonymous bidder has become the owner of a poem signed by Anne Frank on March 28, 1942, reports the BBC; her family was forced into hiding in Amsterdam on July 6 of that year.
The poem was initially sent to the older sister of one of Anne's friends, Jacqueline van Maarsen. However, van Maarsen says her sister, who died in 2006, gave it to her around 1970.
According to the auction website, van Maarsen decided to sell the poem because "I know that my sister was not as attached to this verse." Indeed, she found it to have a "condescending tone," in the words of the New York Times.
"My sister didn't really like the poem very much because Anne was very critical of her, because she left school early, whereas Anne was busy all the time," van Maarsen says.
The first four lines of the poem—instructing Christiane van Maarsen to "once again take up your task" in times of failure "and try harder than before"—were copied from a magazine, but the last four lines may be of Anne's own creation.
They read in part, "If others have reproached you … then be sure to amend your mistake," per CNN, which has a complete translation. The poem was expected to fetch as much as $52,000, but Bubb Kuyper's owner notes that while "in itself its historical significance is fairly limited ... there is not much material out there anymore in terms of Anne Frank memorabilia," per the Telegraph.
(Anne Frank's marbles were found in 2014.)
This article originally appeared on Newser: Winning Bid for Anne Frank Poem Stuns Auctioneers