West Virginia man arrested after 17 rattlesnakes found in home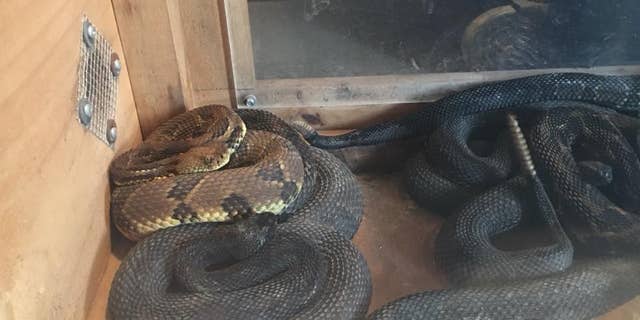 A West Virginia man was arrested after officials with the state's Natural Resources Police discovered he had been catching rattlesnakes from a nearby national forest and keeping them in his home in Randolph County.
'HUGE' RATTLESNAKE'S LOUD WARNING TO MISSISSIPPI MAN GOES VIRAL
The investigation was sparked after officials received information about illegal rattlesnake possession, eventually leading them to the man's home, where they found 17 rattlesnakes, West Virginia Natural Resources Police said in an online statement this week.
The man, who has not yet been identified, was charged with two counts of illegal possession of a timber rattlesnake and possession of a rattlesnake less than 42 inches. In West Virginia, residents can only have one rattlesnake and it must be at least 42 inches in length, according to officials.
The size limit was put in place to ensure a "steady supply of breeding-age females," as female timber rattlesnakes are typically smaller than males, the Charleston Gazette-Mail reported.
WISCONSIN WOMAN WHOSE CAR WAS 'RUNNING STRANGELY' FINDS LARGE PYTHON UNDER HOOD, POLICE SAY
The rattlers were later returned to the dens near where they were first captured, West Virginia Natural Resources Police said.