VIRGIN BIRTH! Stingray gives birth to 'Darth Vader' after cloning herself in scientific phenomenon
In a shocking scientific development, an 11-year old stingray has given birth to a healthy offspring, despite having had no male contact in over nine years.
Freckle, an Eagle Ray that lives at the Sea Life Sydney Aquarium in Australia, gave birth to an offspring the staff has named Ani (short for Anakin Skywalker, better known as Darth Vader) through a scientific phenomenon known as parthenogenesis.
Parthenogenesis (which means virgin origin in Latin) has been seen in similar species, but it is uncommon, the Aquarium said in a statement. In the Netherlands, five Eagle Rays were born because of parthenogenesis, but none survived.
MONSTER SQUID GOES VIRAL AFTER IT WASHED UP IN NEW ZEALAND
Ani, however, seems to be doing just fine. She was born on July 26 and the team at the aquarium says she is in "good health, swimming, eating and demonstrating the habits of a happy and healthy baby Eagle Ray — who loves eating mussels and pilchard fillets."
"Parthenogenesis is a very rare reproductive strategy where an embryo develops without fertilization," Adam Stow, associate professor of genetics and marine conservation at Macquarie University, said in a statement. "It is a rare occurrence among vertebrates such as Eagle Rays — so this is a very special arrival for Sea Life Sydney Aquarium."
The team first noticed that Freckle might be pregnant more than a month prior to Ani being born, when Libby Eyre, a senior aquarist and ray trainer at the aquarium, noticed her belly getting bigger.
"We noticed something going on with Freckle in early June when her belly was noticeably larger," Eyre said in the statement. "We initially dismissed pregnancy as there are no male eagle rays in the tank. As time went on we knew Freckle was indeed a mum-to-be."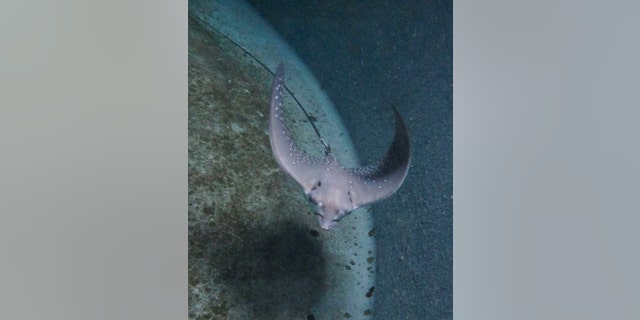 Eyre continued: "This experience has helped expand our already extensive knowledge of this species and will assist us in their ongoing husbandry. As well as being a little miracle, we think Ani demonstrates that we have top care of this species and what a fantastic job the team is doing."
Ani is not yet on display at the aquarium, with the team actively monitoring her progress. Those interested in following her journey can get updates on the aquarium's Facebook and Instagram pages.
GRAPHIC IMAGES: SHARK ATTACKS SEAL, TURNS WATER RED
Parthenogenesis
Although parthenogenesis is a rare and exciting scientific occurrence, it is not the "normal" course of reproduction for these animals and can be quite dangerous for their future. It reduces genetic diversity in offspring and makes them "less robust to the challenges of the world," the aquarium added.
Freckle, who lives in a tank with other female Eagle Rays, two Leopard Sharks, a White-Spotted Guitarfish (also a ray) and other various "bony" fish, has had no contact with a male since early 2009.
Parthenogenesis has been seen in other species, including snakes, lizards and some birds. It's even been seen in sharks and rays that are in the care of humans, including sawfish, blacktip sharks, leopard sharks and several other types.
SCIENCE OF 'THE MEG': HOW SCIENTISTS KNOW THE WORLD'S LARGEST SHARK IS GONE FOREVER
In February, a new type of crayfish was discovered, born from parthenogenesis.
In 2012, a study showed the phenomenon may be more common in the wild than previously thought, citing examples such as komodo dragons and various types of snakes.

Follow Chris Ciaccia on Twitter @Chris_Ciaccia