Venomous snakes found by North Carolina firefighter in floods after Florence
A North Carolina man thought he saw an alligator in the flood waters after Hurricane Florence. But what he really spotted was just as dangerous.
North Topsail Beach firefighter Bradley Thomas Dixon shared a video to Facebook of two cottonmouth snakes lounging near some flooding. He said the larger one was about 4 feet long and the other just a half-foot smaller.
"These little cottonmouths are sitting here soaking up some sun," Dixon said in the video.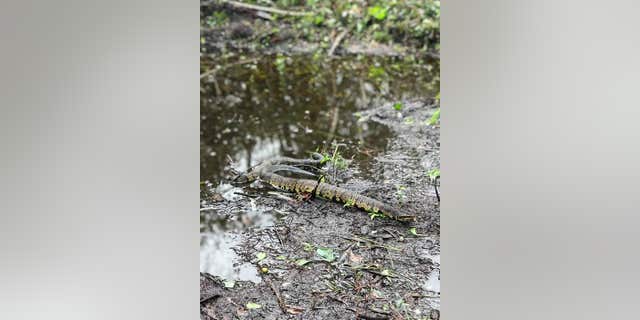 He discovered the venomous snakes at a disc golf course in Hampstead, where he evacuated to during Hurricane Florence, WNCN-TV reported.
Dixon originally "just walked up on" the snakes and thought he had stumbled across an alligator, he told McClatchy.
"When I jumped down from a fallen tree on a remote part of the disc golf course, I instantly saw them and thought it was a gator," Dixon said. "Startled, I jumped back on the log. The snakes did not move, so I videoed them because it was one of the most intense moments I have experienced in a while."
FLORENCE COULD SWEEP VENOMOUS SNAKES INTO FLOODWATERS
"The cottonmouths were probably washed in from a swampy area and were dazed and stunned," he continued. In the video, the snakes didn't move.
Also known as water moccasins, cottonmouths are one of six poisonous snakes found in the Tar Heel State, according to the North Carolina Wildlife Resources Commission. While they are generally between 3-4 feet, they can reach up to 6 feet long, according to the commission.
GIANT LIZARD IN FLORIDA EVADES CAPTURE, TORMENTS FAMILY
With the flooding brought by Florence, experts in the Carolinas warned venomous snakes could be displaced from their natural habitats and encouraged residents to be cautious, Fox News previously reported.
Cottonmouth snakes, in particular, "inject venom, which causes tissue destruction, platelet loss, causes bleeding [and] it can cause death," Gerald O'Malley with the Grand Strand Hospital in Myrtle Beach, South Carolina, previously told The Sun News.
By Tuesday morning, Dixon's video had amassed more than 57,000 views on Facebook.
Hampstead is near North Carolina's east coast between Wilmington and North Topsail Beach.
Fox News' Madeline Farber contributed to this report.