'Vegetarian' shark discovery: First omnivorous species of sea predator stuns scientists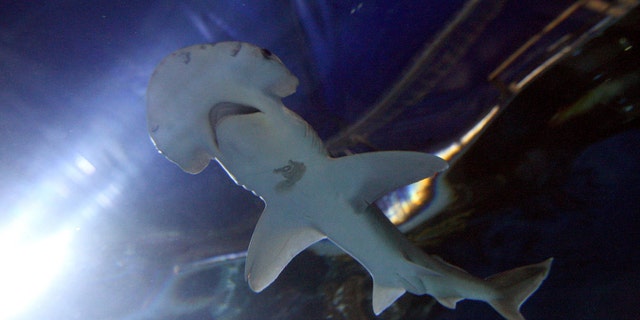 Surprised scientists have identified the seagrass-munching bonnethead as the first omnivorous shark species.
The shark, the smallest member of the hammerhead family, was studied by experts from the University of California Irvine and Florida International University. Their findings are published in the Proceedings of the Royal Society B.
"We were absolutely surprised to find that the bonnethead sharks were taking an omnivorous digestive strategy," Samantha Leigh, a doctoral candidate at the University of California, Irvine and the study's lead author, told Fox News.
MASSIVE GREAT WHITE SHARK FILMED JUST FEET AWAY FROM OBLIVIOUS PADDLE BOARDER
The bonnethead was once thought to be solely carnivorous, with a diet of small fish, crabs, shrimp and mollusks.
Scientists, however, have found that in areas where seagrass is abundant, the shark has plenty of greens in its diet. Nonetheless, it was unclear how effective the sharks were at actually digesting the seagrass nutrients. To find the answer, captive bonnetheads were fed a largely seagrass-based diet.
In their paper, the researchers explain that the sharks are doing a decent job of digesting the seagrass. "We have always thought of sharks as strict carnivores, but the bonnethead is throwing a wrench into that idea by digesting a fair amount of the seagrass that they consume," Leigh told Fox News.
GRAPHIC IMAGES: SHARK ATTACKS SEAL, TURNS WATER RED
The research study notes that sharks' guts are widely thought to be well suited to a high-protein diet, making the findings of the bonnethead study particularly noteworthy.
"Given that bonnetheads have a digestive system that resembles that of closely-related species that we know to be strict carnivores, we need to re-think what it means to have a 'carnivorous gut'," Leigh said.
Additionally, the shark's environmental impact needs to be considered, according to the researcher. "In an ecological context, we also need to evaluate the role that this highly abundant shark plays in crucial and fragile seagrass meadow ecosystems so that we can be sure to effective manage these habitats," she said.
Follow James Rogers on Twitter @jamesjrogers