Vast solar tornado spied on the sun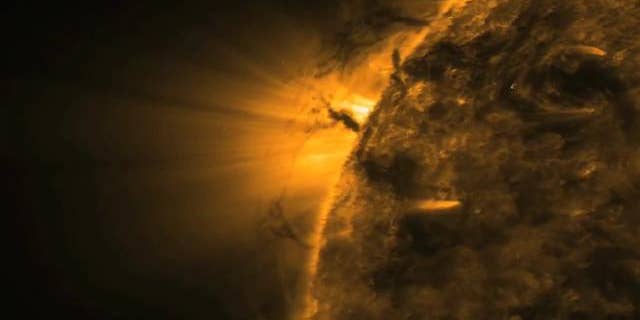 NEWYou can now listen to Fox News articles!
A tremendous tornado whirling across the surface of the sun was captured by a NASA satellite recently -- an amazing wonder of the solar system that may be as big as the Earth itself.
The video was recorded by the Solar Dynamics Observatory (SDO), a sun-watching satellite that has transmitted a series of stunning photos of solar flares in recent months. The new video shows darker, cooler plasma shifting back and forth above the sun's surface over the span of nearly 30 hours stretching from Feb. 7 to Feb. 8.
And the giant tornado may be as large as the Earth itself, with gusts of up to 300,000 mph, explained Terry Kucera, deputy SOHO project scientist and a solar physicist with NASA's Goddard Space Flight Center.
"It's about 15,000 degrees Fahrenheit -- relatively cool," Kucera told FoxNews.com. After all, the sun's corona is a whopping 2 million degrees, she explained.
Such tornadoes (Kucera classed it a "solar prominence") have been known of for decades; the European Space Agency's SOHO spacecraft captured evidence of them as early as 1996, mainly near the Sun's north and south poles at the time. And though they resemble their cousins here on Earth, they're created entirely differently, Kucera said -- through magnetism, not pressure and temperature fluctuations.
"Those motions you see, it's all just moving along the magnetic field somehow -- but we're still looking to understand what's happening with these things," Kucera said.
The storm was created by competing magnetic forces, which pull the charged magnetic particles on the sun back and forth, creating a spinning mass of plasma that tracks along strands of magnetic field lines, NASA explained.
The spinning top of the tornado is mesmerizing, but Kucera noted the span of the prominence as well. The long, ribbon shapes could span hundreds of thousands of miles, she said.
"In total length, this could be dozens of Earths -- quite large," she said.
Such detailed, high-resolution recordings of the immense tornadoes was not possible until the launch of SDO. The satellite has several cameras on board that capture solar activity in different wavelengths and frequencies, all in the name of science.
"Each wavelength of light tells us something different," she said.