US commemorates 30th anniversary of Challenger Space Shuttle disaster
Tributes flooded in for the seven astronauts who lost their lives on the Challenger Space Shuttle Thursday as the United States commemorated the 30th anniversary of the disaster.
The shuttle exploded just 73 seconds after launch from Kennedy Space Center, Fla. on Jan. 28, 1986, killing all crewmembers of mission STS-51L. The disaster claimed the lives of astronauts Francis "Dick" Scobee,  Michael Smith, Christa McAuliffe,  Judith Resnik, Ronald McNair, Ellison Onizuka and Gregory Jarvis.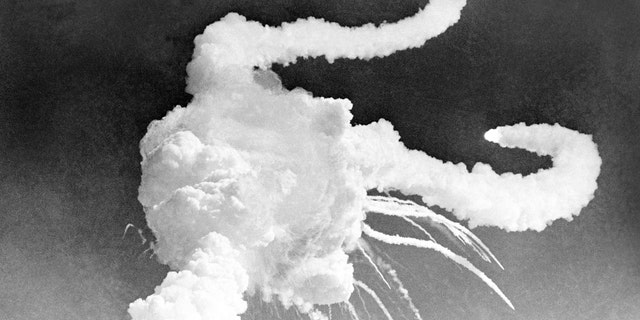 NASA is holding a day of remembrance to commemorate the crews of Challenger, Apollo 1 and Columbia.
Related: Family members of Challenger victims to mark 30 years since shuttle disaster
"Every year at this time we take a moment to reflect as the NASA family on the very broad shoulders on which we stand: the shoulders of those men and women of NASA who gave their lives so that you and I could continue to reach for new heights for the benefit of all humankind," wrote NASA Administrator Charles Bolden, in a statement on NASA's website.
Astronauts on the International Space Station held a moment's silence as part of NASA's Day of Remembrance.
"Today marks the 30th anniversary of the Space Shuttle Challenger accident so I would like to just take a moment of silence and recognize the sacrifice of all those crewmembers and how their legacy and lives on in our achievement in space," said American astronaut Scott Kelly, who is spending a year on the International Space Station.
The U.S. Air Force also honored the Challenger crewmembers.
Canadian astronaut Chris Hadfield added his voice to those paying tribute to the Challenger crew. "Spaceflight is forever safer, more capable. I honour them," he tweeted.
"I think, in many ways [the Challenger disaster] challenged us to renew our exploration efforts," said astronaut Buzz Aldrin, during an interview with Fox Business on Thursday.
Families of the lost astronauts are gathering with NASA to mark the space shuttle accident's anniversary Thursday.
Teachers and school board members are also gathering at the McAuliffe-Shepard Discovery Center in Concord, N.H. to pay tribute to crewmember and teacher Christa McAuliffe and the six other astronauts who died.
Gov. Maggie Hassan is among the people scheduled to speak at the center Thursday afternoon.
She said we must continue to carry on the legacy of McAuliffe, who taught at Concord High School, and the Challenger crew by encouraging more young people to enter the sciences and working to achieve the dreams that led McAuliffe into space.
Thursday is the first day of this semester's American Women in History class at the school, a course McAuliffe created. Students are watching a documentary about her, writing about their dreams as part of a "Reach for the Stars" assignment, and participating in a school-wide moment of silence.
The Associated Press contributed to this report.