Unlocking the Titanic: Hero's locker key up for auction in the UK
A rare key that a Titanic hero used to save lives during the tragic liner's sinking is up for auction in the U.K.
The key, with a brass tag stamped "Locker 14 F Deck" was in the possession of Third Class Steward Sidney Sedunary as the Titanic was sinking.
Sedunary worked heroically on Titanic's F deck on the night of the sinking, according to evidence given at the British inquiry in to the disaster. The key would have been used to get lifejackets from the locker where they were stowed, the Mirror reports.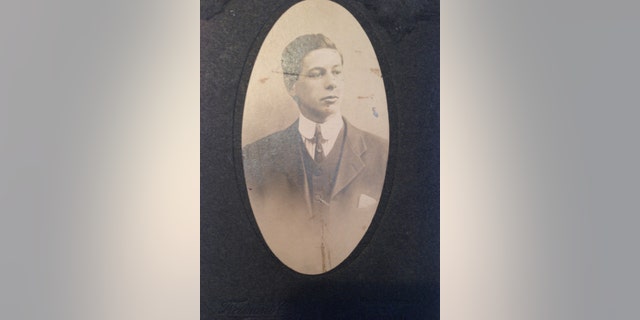 "To have any key from Titanic is rare, but to have one with this level of provenance, that has been in the family of a Titanic crewman for over a century and formed a vital part of the survival effort for some passengers takes it into the realm of the finest Titanic memorabilia," Henry Aldridge & Son auctioneer Andrew Aldridge told FoxNews.com, via email.
Titanic struck an iceberg at 11:40 p.m. ship's time on April 14 1912 and sank just over two hours later with the loss of more than 1,500 lives, including Sedunary's.
The steward's body was recovered by the ship Mackay Bennett and his personal effects, including the key, were sent back to his wife Madge who was pregnant with his unborn son. Sedunary's son was born in November 1912 and named after his father.
The key, which has a pre-sale estimate of $36,640 to $61,070, is being sold via a direct descendant of Sedunary. It will be auctioned by Henry Aldridge & Son with other Titanic, White Star Line and ocean liner artifacts in Devizes, U.K. on Oct. 22.
Henry Aldridge & Son is also auctioning rare letters that provide a fascinating glimpse into life on Titanic and the liner's fateful final moments.
A number of artifacts from the doomed ship were auctioned in the U.K. earlier this with the sextant used by the captain of rescue ship Carpathia selling for just under $97,000. Three photos and a handwritten note detailing the grisly discovery of Titanic's last lifeboat were sold for $6,800.
Follow James Rogers on Twitter @jamesjrogers