Typhoon lifts Boeing 747 off the ground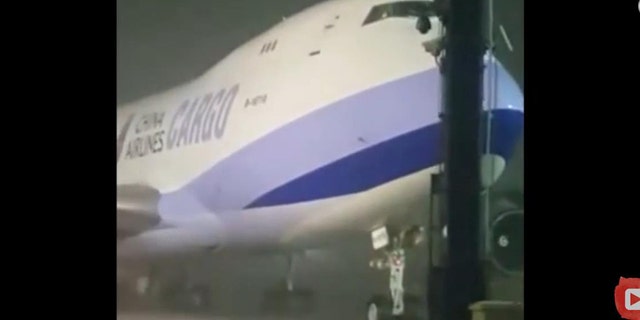 A video has captured the incredible moment when a Boeing 747 was lifted off the ground by Typhoon Soudelor in Taiwan.
The typhoon is shown repeatedly lifting the nose wheel of a China Airlines Cargo jet in a MrOutofcontrolvideos YouTube video.
Soudelor made its first landfall in Taiwan on Aug. 8. The Typhoon's top wind gust in Taiwan was 143 mph along the country's northeast coast, according to The Weather Channel.
Popular Mechanics reports that a flight-ready cargo Boeing 747 could weigh more than 970,000 lbs. or around 400,000 lbs without fuel or cargo. It typically takes an airspeed of about 180 mph to get a Boeing 747 airborne, although 130 mph could lift a lighter version of the plane, according to Popular Mechanics.