Trump wants to see NASA boots on the Moon
President Donald Trump wants to see U.S. astronauts return to the Moon as a foundation for future Mars missions.
Trump signed a policy directive Monday instructing the National Aeronautics and Space Administration to "refocus America's space program on human exploration and discovery."
The move, Trump said, "marks an important step in returning American astronauts to the Moon for the first time since 1972 for long-time exploration."
"This time we will not only plant our flag and leave our footprint," he said. "We will establish a foundation for an eventual mission to Mars, and perhaps someday, to many worlds beyond."
NASA's goal is to send a manned mission to Mars in the 2030s.
Chris Carberry, executive director of Explore Mars, a non-profit organization that aims to advance the goal of sending humans to Mars within the next two decades, welcomed the policy directive and urged the administration to drive space exploration over the coming years. "We are certainly happy that Mars remains a key element of US space policy," to told Fox News, via email. "However, we also hope that a plan can [be] devised that will enable humanity to return to the Moon, but not delay Mars missions by decades."
NASA TO MAKE MAJOR ANNOUNCEMENT THURSDAY, WILL REVEAL NEW KEPLER DISCOVERY
Explore Mars, he explained, is a strong proponent of building strong commercial and international partnerships to enable lunar missions, while at the same time, allowing the U.S. to lead missions to Mars in the 2030s. "We hope that this signing will help to accelerate our return to deep space exploration."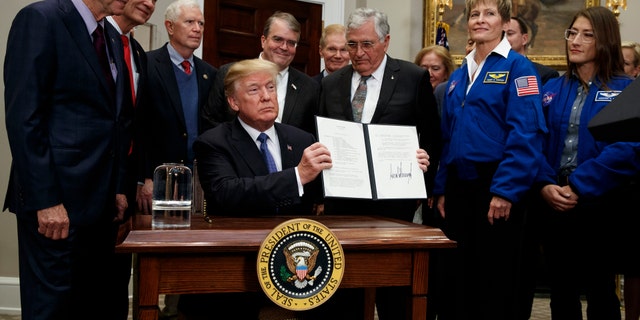 Under the directive, the government is expected to work closely with other nations and private industry.
The last time a human set foot on the Moon was during the Apollo 17 mission in December 1972. Only 12 men, all Americans, have set foot on the Moon.
EUGENE CERNAN: A LIFE IN PICTURES
Vice President Mike Pence also highlighted the economic impact of the policy directive Monday. "We will see jobs created that you couldn't even imagine," he said, during the White House signing ceremony.
The space policy directive ensures that America will lead in space once again, he added.
Trump and Pence were joined at the White House by several current and former astronauts, including Buzz Aldrin, the second man to walk on the Moon, and former U.S. Sen. and Apollo 17 astronaut Harrison "Jack" Schmitt, the next-to-last person on the Moon.
EARLY EARTH TOOK A HEAVY BEATING AFTER THE MOON WAS FORMED
Monday marks the 45th anniversary of the Moon landing by Schmitt and Eugene Cernan, the Apollo 17 commander. Cernan, the last man to walk on the Moon, died earlier this year at the age of 82.
Past presidents, including George H.W. Bush and George W. Bush, have also proposed returning to the Moon and missions to Mars but budget constraints derailed their plans.
The Associated Press contributed to this article. Follow James Rogers on Twitter @jamesjrogers