Tomb Raider, Dinosaur Thief Sentenced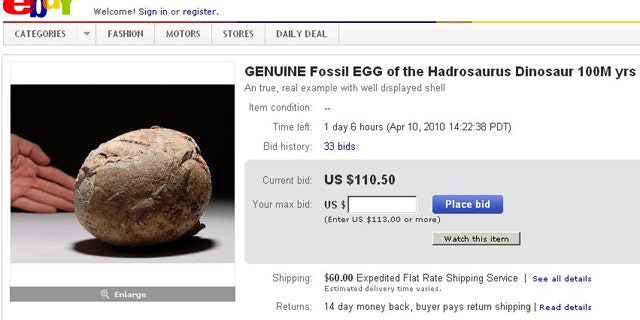 NEWYou can now listen to Fox News articles!
A thief tried to walk away from the "Home of the Dinosaur" with the makings of an ancient omelette. He didn't get far.
Tomb raider He Hongyan was sentenced to three years in prison and four years on probation for stealing dinosaur egg fossils, reports China Daily newspaper. The paper reports that a court in China's Xixia county -- "Home of the Dinosaur" in Central China's Henan province -- sentenced him to three years in prison and four years on probation.
Fossils, dinosaur fossils in particular, are big business. A quick tour of eBay turns up dozens of them for sale to collectors, for sums ranging from the affordable to the outrageous. One seller offers a "superb and complete 12-egg dinosaur nest" for flat $20,000 price. Others sell for as little as $100, such as the "genuine fossil egg of the hadrosaurus dinosaur" another seller was offering.
To uncover such potentially valuable items, Hongyan reportedly dug a 10-meter-deep cave on a hillside in Xixia from November 2009 to January 2010. Police found him with nine fossil dinosaur eggs, six of which were damaged.
Xixia has been celebrated as "Home of the Dinosaur" because of the large number of dinosaur egg fossils discovered there.