Tiger Comeback Brewing in India, Census Numbers Show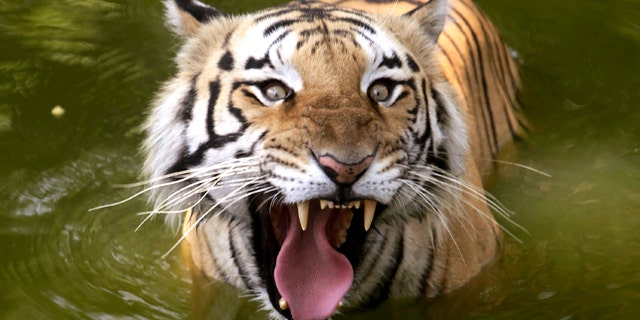 NEWYou can now listen to Fox News articles!
NEW DELHI – India's latest tiger census shows an increase in the numbers of the endangered big cat, but threats to their roaming territory could reverse those gains, officials said Monday.
The census counted at least 1,706 tigers in forests across the country, about 300 more than four years ago, a government official said Monday.
Environment Minister Jairam Ramesh called the increase good news but cautioned against any complacency in efforts to save the iconic animal from extinction.
"The rise in numbers is the result of sustained efforts, but the shrinking of tiger corridors is alarming," Ramesh said.
Wildlife experts who conducted the census said tiger corridors, which are the routes frequently used by the big cats to move from one reserve to another, had declined sharply as huge power projects, mining and roads cut into their habitats.
"Securing these corridors should be taken up as a priority," said Rajesh Gopal, director, National Tiger Conservation Authority.
But with India pushing ahead with its economic agenda, the threat to the tiger increases as the government tries to juggle the competing claims of development and wildlife conservation, Ramesh said.
Unlike earlier tiger estimates, when pugmarks of individual tigers were counted, this time round conservationists used hidden cameras and DNA tests to count the cats in 17 Indian states where tigers live in the wild.
"The count is more scientific this time and therefore more accurate," Gopal said.
The census included 70 tigers in the eastern Indian Sunderbans Tiger Reserve, which had not been counted in the last census in 2007. Not counting the Sunderbans population, the latest count reflects an increase of about 16 percent.
The 2007 census had shown 1,411 tigers, a sharp fall in the population from about 3,600 five years earlier.
A century ago, about 100,000 tigers roamed India's forests.
Shrinking habitats have brought the wild cats into conflict with farmers who live near tiger reserves and poachers who kill them for pelts and body parts, highly prized in traditional Chinese medicine.
The release of the latest tiger census results coincided with the start of a three-day international conference to follow up on progress made at the 2010 St. Petersburg summit of 13 countries that are home to wild tigers.
At the New Delhi meeting, countries will present strategies to implement the Global Tiger Recovery Program adopted in St. Petersburg which includes plans to double the tiger population by 2022, crack down on poaching and on trading in illicit tiger pelts and body parts.