Thousands of turtles killed by longline fishing in Costa Rica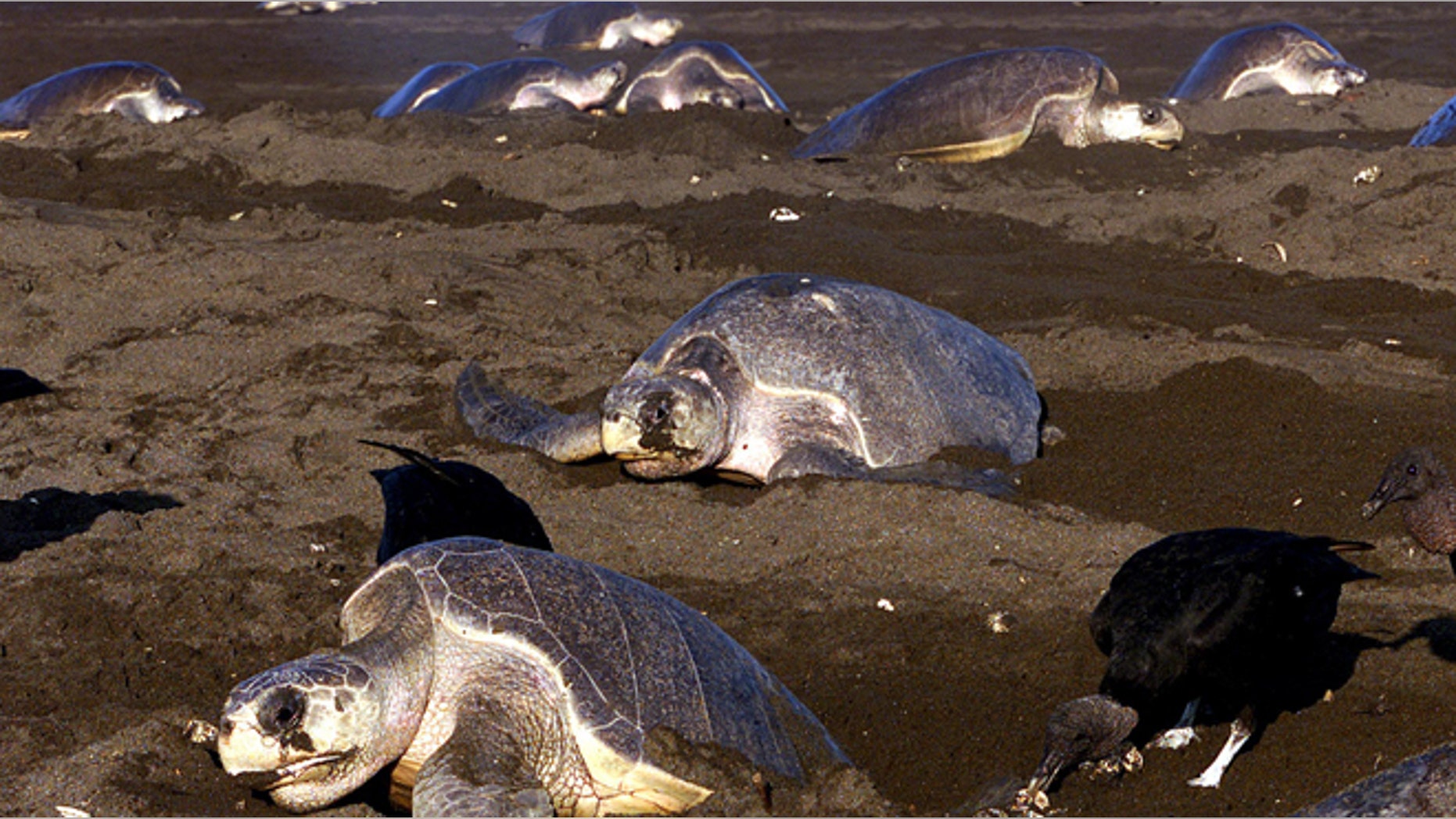 Sea turtles were the second most common catch on Costa Rican fishermen's longlines during the past decade. Sharks also suffered on the hooks.
A team of Americans and Costa Ricans estimated that longlines hooked more than 699,000 olive ridley sea turtles (Lepidochelys olivacea) and 23,000 green sea turtles (Chelonia mydas) between 1999 and 2010. Female olive ridleys made up 92,300 of the total. This represents a serious blow to the reproductive potential of the species, which the International Union for the Conservation of Nature (IUCN) lists as vulnerable. The IUCN lists green turtles as endangered.
PHOTOS: Whole Foods Seafood Ban: Meet the Fish
Approximately 20 percent or 144,400 of the hooked turtles died. People freed the rest from the curved steel spikes and released them back into the sea. However no one knows if the ordeal seriously injured the animals.
"The effect of the rusty hooks may be to give the turtles a good dose of disease," said James Spotila, an environmental scientist at Drexel University and co-author of the study published in the Journal of Experimental Marine Biology and Ecology, in a press release. "No one knows because no one holds the turtle to see if it gets sick."
[pullquote]
Longline fishing involves a single long cable with many side lines coming off of it. Each side line holds a baited hook. Spotila and his teammates used data collected by observers aboard longline ships to calculate the totals of the various species caught.
7 Insects You'll Be Eating in the Future
The research team also observed that many young silky (Carcharhinus falciformis) and blacktip (Carcharhinus limbatus) sharks ended up on the lines. Less than 15 percent of the captured silky sharks had reached maturity. An abundance of adolescents may mean the adults have been wiped out.
Longline fisherman caught more mahi mahi than any other fish. Mahi mahi attracted fishmermen's attention because they command a good price in the market.
However, sharks and turtles have no legal commercial value in Costa Rica, because of protections under national law. One study author criticized the Costa Rican fisheries agency INCOPESCA for failing to enforce protections of the sharks and turtles.
"INCOPESCA has failed to adequately study and regulate the fishery in Costa Rica for many years," said Randall Arauz, president of Pretoma, a Costa Rican conservation organization, in a press release. "It does not even enforce national laws. Board members have serious conflicts of interest because they are commercial fishermen. Until INCOPESCA is reformed in such a way that the Board of Directors is eliminated and its mission is to defend the public interest, neither the fish nor the turtles will be safe."