The astonishing 390-year old bonsai tree that survived the Hiroshima atomic blast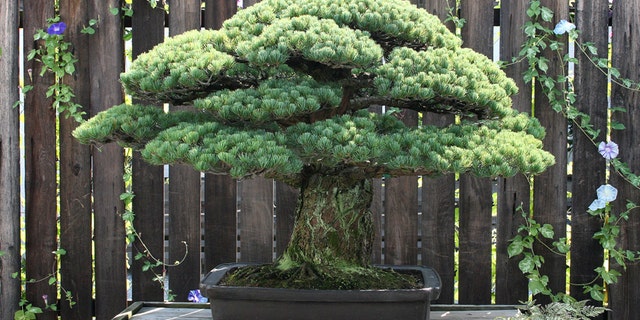 NEWYou can now listen to Fox News articles!
The history of a 390-year old bonsai tree at the National Arboretum that survived the Hiroshima atomic blast is being honored this week. Thursday marks the 70th anniversary of the Hiroshima bombing.
The Japanese White Pine is in the Arboretum's National Bonsai and Penjing Museum. The tree was donated in 1976 by bonsai master Masaru Yamaki as part of Japan's Bicentennial gift to the American people.
However, the tree's astonishing tale of survival was only revealed to the museum in 2001 during a visit by the late bonsai master's grandsons Akira and Shigeru Yamaki.
The Washington Post reports that a walled bonsai nursery belonging to the Yamaki family was less than two miles from the site of the Hiroshima bomb blast, just far enough for the tree to survive. Jack Sustic, curator of the Bonsai and Penjing Museum, told the Washington Post that the ancient tree was up against the wall, which likely shielded it from the blast.
News footage taken at the Yamaki nursery after the atomic bomb blast shows the Japanese White Pine unscathed, according to the Washington Post.
The tree is the oldest bonsai in the National Arboretum's collection.