Terrifying 150 million-year-old 'mystery' dinosaur sells for $2.4M
A nearly complete fossil of a mystery dinosaur thought to be 150 million years old was sold for nearly $2.4 million at an auction in Paris on Monday.
The dinosaur skeleton, which is largely intact, belongs to a yet-unknown species of dinosaur and has paleontologists and scientists buzzing about what it could be.
"The skeleton is 70 percent complete," paleontologist Eric Mickeler and valuation expert for French auction house Aguttes told ABC News in an interview. "This is remarkable to have such a large amount of original fossilized bones."
THE AGE OF DINOSAURS WAS LIKE A REAL LIFE 'GAME OF THRONES'
The mystery carnivore was once thought to be an allosaurus, Mickeler added, but noted that after an in-depth examination was done, "the skeleton presented major anatomical differences from known allosaurs — notably more teeth and distinctive bones."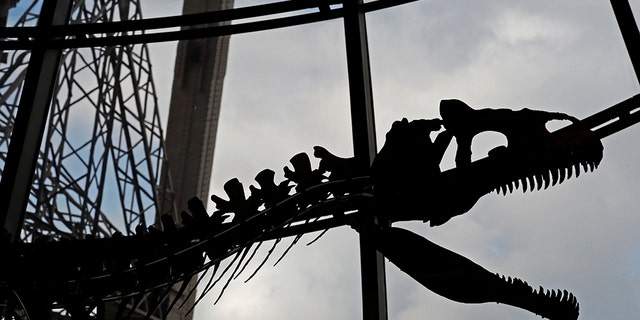 The unidentified 150 million-year-old skeleton was discovered at the Morrison Formation site in Wyoming in 2013, Fox 23 reported. The remains of the ancient beast are 30 feet long and 9 feet high and Mickeler said this particular dino "died at an old age."
The buyer has so far remained anonymous, but told auctioneer Claude Aguttes that if they were to win the bidding, they would present it to the public, Reuters reported. The final price topped estimates, which were initially put at $2.1 million.
Some of the proceeds from the auction will go toward charities working with endangered species, Reuters added.
DINO-KILLING ASTEROID IMPACT WARMED EARTH'S CLIMATE FOR 100,000 YEARS
Aguttes, who later identified the seller only as a British businessman, said that the difficult-to-describe dino would "soon be lent to a museum, it will be studied by scientists, everything is perfect."
It's unclear who will eventually name the dinosaur, though the French auction house said the mystery buyer may be able to name the fossil.