Tang, Meet STEM: Food Experiment to Take off on Endeavour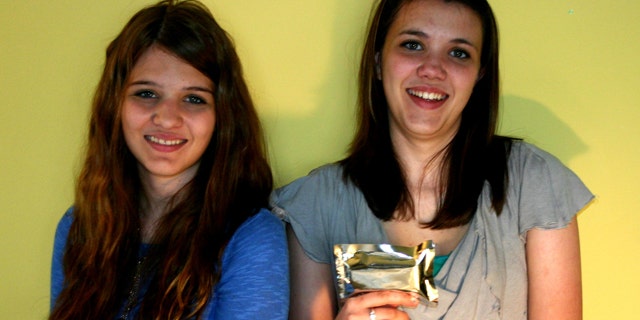 NEWYou can now listen to Fox News articles!
Move over Tang, there's a new name in astrofood: STEM.
A pair of high school-age sisters have invented the newest item on the astronaut menu. Called STEM bars, they're a nutritious and NASA-certified alternative to standard astronaut fare, and the bars will join both Tang and freeze-dried ice cream on Endeavour's final flight.
The thought of teaming up with a younger sibling would be daunting for most teenagers, but it didn't take much for 15-year-old Shannon Diesch to convince big sister Mikayla to join her.
The Michigan sisters spent about a year preparing their invention, which was entered in the 2010 Conrad Foundation Spirit of Innovation Competition's sweets and nutrition category. The girls found inspiration by just taking a quick look around at their surroundings to create a competition winner that met all of the regulations.
"We're from Battle Creek, Mich., the cereal capital of the world," explained Mikayla, a junior at Pennfield High School.
Shannon was the one to first find the competition and muster up the courage to ask her older sister to join her team, however. "I found the competition and then I asked her to be on my team -- and she was kind of like, 'Do I really want to be on the team with my sister?' But she ended up working on it with me, and now she's really passionate about it," Shannon told FoxNews.com.
The competition was not your typical science fair, which appealed to Mikayla. There was a lot of planning that went into the product, and it wasn't just the manufacturing or ingredients. The girls were responsible for coming up with a business plan and a successful marketing campaign, too. The idea of the STEM (Science, Technology, Education and Mathematics) bar also appealed to them because of the ability to mass-produce it.
Originally, the flavor was apple-cinnamon, but "it didn't taste right," Shannon said. The decision to add cranberries to the mix was mutual -- both girls simply liked the taste of them. They originally started out with a team of four, but after the other two teammates decided to drop out of the competition, the sisters knew they wanted to forge on alone.
"A year ago, I would not have thought that I would have something going on a space shuttle. And now that it's actually going, I'm really excited and I can't wait to see it," said Mikayla, who dreams of attending either Harvard or Stanford.
The girls are enjoying plenty of support from family and friends back at home.
"I was talking to my friends on Facebook last night and they think it's really awesome," Shannon said. "I tell them about the interviews, and they're like 'You're famous!'"
"Our parents have been really supportive," Shannon added. "They've driven us across the country to different competitions and things."
Mikayla even met President Obama in October, when she was among 75 science students honored at the White House. "It was awesome," she said.
The girls will be honored during the Spirit of Innovation's closing ceremonies on Sunday, and have the opportunity to present their STEM bar to entrepreneurs, scientists and industry professionals -- as well as compete for $5,000 in Next Step Grants.