Stunning NASA image reveals 'jack-o-lantern' Sun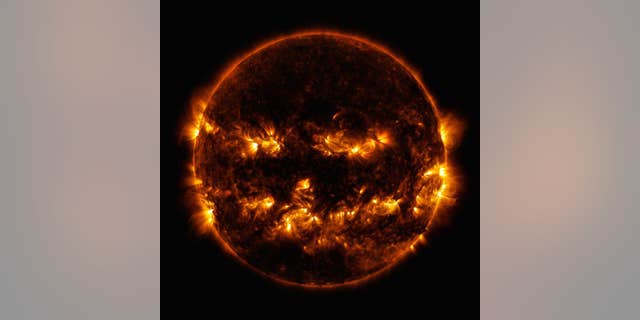 An incredible image released by NASA shows the Sun bearing a striking resemblance to a jack-o-lantern.
The image was captured on Oct. 8, 2014 by NASA's Solar Dynamics Observatory (SDO), which watches the Sun at all times. The orbiting space observatory was launched on Feb. 11, 2010.
'MONSTER' PLANET DISCOVERY STUNS SCIENTISTS
"Happy Halloween!" the space agency tweeted Tuesday with the stunning picture of the 'jack-o-lantern' sun.
"Active regions on the sun combined to look something like a jack-o-lantern's face," explained NASA, in a statement on its website. "The active regions in this image appear brighter because those are areas that emit more light and energy. They are markers of an intense and complex set of magnetic fields hovering in the sun's atmosphere, the corona," it added.
The image blends together two extreme sets of ultraviolet wavelengths, which are typically colorized in gold and yellow, to create an appearance resembling a jack-o-lantern, according to NASA.