Star of Bethlehem may not have been a star after all, scientist says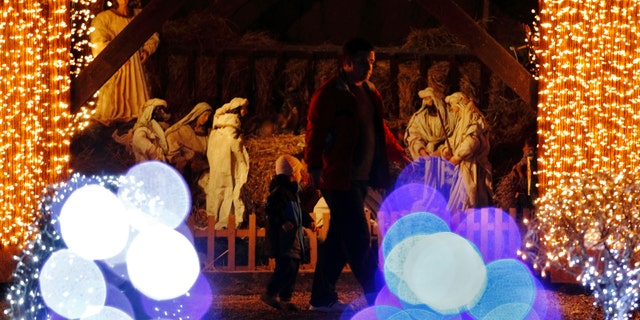 NEWYou can now listen to Fox News articles!
The famous Star of Bethlehem may not have been a star at all, but an extremely rare planetary alignment, according to a University of Notre Dame professor.
Grant Matthews, professor of theoretical astrophysics and cosmology in the Department of Physics in the University of Notre Dame's College of Science, has been studying the Star of Bethlehem for over a decade.
"Astronomers, historians and theologians have pondered the question of the 'Christmas Star' for many years," said Matthews, in a press release. "Where and when did it appear? What did it look like? Of the billions of stars out there, which among them shone bright on that day so long ago?"
CHRIST'S BURIAL SLAB UNCOVERED FOR THE FIRST TIME IN CENTURIES
After studying historical, astronomical and biblical records, Matthews believes that the event that led the Magi to Bethlehem was a rare planetary alignment that occurred in 6 B.C. During the alignment the sun, Jupiter, the moon and Saturn were all in Aries, according to Matthews, while Venus was next door in Pisces and Mercury and Mars were on the other side in Taurus. At the time, Aries was also the location of the vernal equinox.
Matthews' research notes that the presence of Jupiter and the moon signified the birth of a ruler "with a special destiny." Saturn was a symbol of the giving of life, as was the presence of Aries in the vernal equinox, also marking the start of spring. The professor said that alignment in Aries signified a newborn ruler in Judea to the Magi – Zoroastrian priests from ancient Babylon and Mesopotamia.
VATICAN TAPS SPACE TECHNOLOGY TO PRESERVE ITS TREASURES
It will be 16,000 years before a similar alignment is seen again, according to Matthews' calculations and, even then, the vernal equinox will not be in Aries. Mathews couldn't find an alignment like the one known as the Bethlehem Star going out as far as 500,000 years.
The professor is working on a book about his findings.