Thousands of spiders cover Arkansas highway in huge webs like 'thick carpet'
Tents of sticky spider webs are covering the side of an Arkansas highway — and thousands of "creepy crawlers" are beginning to emerge.
Arkansas native Zach Riggs was traveling along Highway 230 outside of Bono city in Craighead County when he stopped to take pictures and videos of the shocking scene.
"Anybody need some spiders?" he asked in a Facebook post this week.
TENNESSEE WOMAN BITTEN BY BROWN RECLUSE SPIDER ALLEGEDLY FINDS DOZENS MORE IN APARTMENT
Nearly 10,000 people have watched Riggs' 40-second footage, which shows what is believed to be Tetragnatha spiders — known as "stretch spiders" for their long bodies — covering road signs, construction equipment and traveling across giant webs almost completely covering a portion of the road like a "thick carpet."
Tetragnatha spiders aren't uncommon. There are hundreds of species of these spiders that live in various parts of the world.
Wildlife experts say it's typical for spiders to build massive nests for mating, especially if it's hot or humid. The weather in Bono has been full of moisture in recent weeks, thanks to several storms that have swept through the area, Accuweather reports.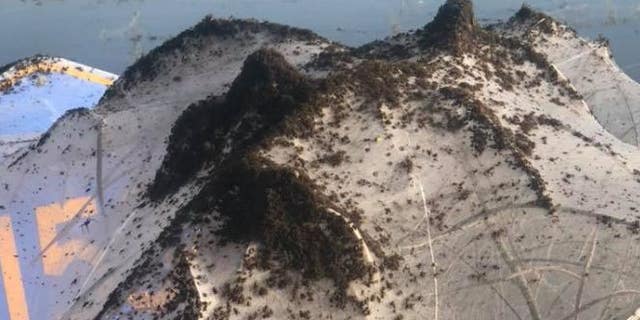 Locals were terrified by the sight and jokingly vowed to steer clear of Highway 230 for the time being.
"I live in Bono and don't approve of this!!!!! I hate spiders!!!! Kill them all!!!" one woman exclaimed on Riggs' social media post.
"My worst nightmare," another agreed.
"We gotta throw the whole county away," one user wrote.
The scene is similar to one witnessed in a town in Greece in September.
Maria Chatzaki, professor of molecular biology and genetics at Democritus University of Thrace, told Newsit that Greece's high temperatures created the perfect climate for reproduction across a lagoon in Aitoliko.
INDIANA MAN WARNS LOCALS TO 'BEWARE OF GIANT SPIDERS AFTER SPOTTING 6-INCH CRAWLER AT WORK
"It's as if the spiders are taking advantage of these conditions and are having a kind of a party. They mate, they reproduce and provide a whole new generation," Chatzaki told the Greek news site, according to a translation from the BBC.
But when the spiders are done mating, they probably won't stick around too long.
"There are huge numbers of male and female spiders mating [underneath the webs]," Chatzaki added. "The spiders will have their party and will soon die."