SpaceX will make another attempt to land a rocket on a drone ship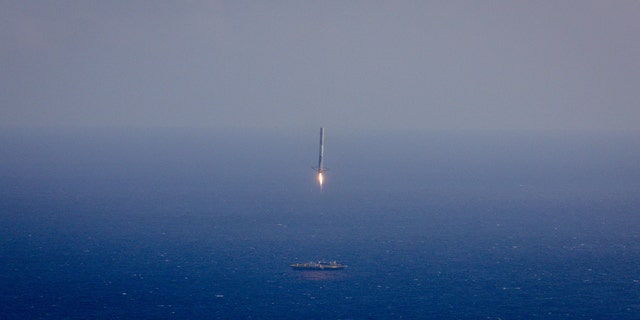 NEWYou can now listen to Fox News articles!
SpaceX will attempt another audacious Falcon 9 rocket landing Wednesday after launching the SES-9 communications satellite into orbit. However, the company is downplaying expectations of a successful landing.
The launch window at Cape Canaveral, Florida opens at 6:46 p.m. ET. Space.com reports that, if everything goes perfectly, the rocket's first stage will separate about 2.5 minutes into flight, with the second stage carrying SES-9 into geostationary orbit. SpaceX will attempt to the first stage rocket on one of its two 'drone ships'- a floating ocean platform off the Florida coast.
Related: SpaceX CEO Elon Musk eyes city on Mars after successful rocket landing
The private space company pulled off a stunning vertical rocket landing at Cape Canaveral on Dec. 21, but has not yet succeeded in its attempts to repeat the feat on a floating platform. Last month the first stage of a SpaceX rocket that delivered an ocean-monitoring satellite into orbit made a hard landing on a drone ship and broke a support leg.
This is the company's fourth attempt at a drone ship landing.
Related: SpaceX botches rocket landing on California barge
SpaceX CEO Elon Musk maintains that recovering and reusing rockets is essential for bringing down launch costs and speeding up operations.
On Tuesday SpaceX tweeted that the weather was at 60 percent for Wednesday's launch attempt.
Related: SpaceX deserves praise for audacious rocket landing attempt, say experts
SpaceX, however, does not expect a successful rocket recovery on this attempt, citing the unique nature of the mission's geostationary orbit. The Verge reports that, with the SES-9 launch delayed from September, SpaceX has changed the flight path to get the satellite into its orbit quicker.
With the heavy satellite going into a very high orbit, Falcon 9 will need more fuel to go faster, leaving less space for fuel to perform the landing.
The Associated Press contributed to this report.