SpaceX launches satellites, but rocket landing suffers 'unscheduled disassembly'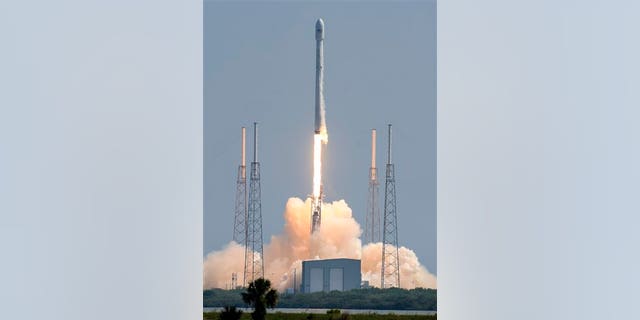 NEWYou can now listen to Fox News articles!
SpaceX's Falcon 9 rocket blasted off a launch pad at Cape Canaveral Wednesday morning, successfully deploying two communications satellites into orbit but failing to land the rocket's first stage on a floating barge, an accomplishment the company had said would be hard.
In fact, the rocket's failed landing on the barge was, according to a Twitter post by the company's CEO, Elon Musk, "Maybe [the] hardest impact to date."
The rocket hit supersonic speeds after launch, then separated as planned, with the second stage continuing into orbit and the first falling back to Earth. Mechanisms called grid fins deployed to help manage its descent.
Related: How the Air Force's 'space fence' will keep American satellites safe
The company was attempting to land the rocket's first stage on the droneship called "Of Course I Still Love You." The rocket's fate was unknown as smoke obscured the final moment and the live video feed froze, but later the company said that they had lost that portion of the vehicle.
The company had said in a statement before the launch that the landing would be "difficult," an accomplishment it has only pulled off a few times before.
Related: On July 4, the Juno spacecraft will finally reach Jupiter
"Ascent phase & satellites look good, but booster rocket had a RUD on droneship," Musk announced on Twitter, later adding that "RUD = Rapid Unscheduled Disassembly :)"
Musk also said on Twitter that one of the three engines on the landing portion of the rocket had a low level of thrust.
Follow Rob Verger on Twitter: @robverger