Spacecraft's final moment: Scientists release last image from Rosetta probe before comet crash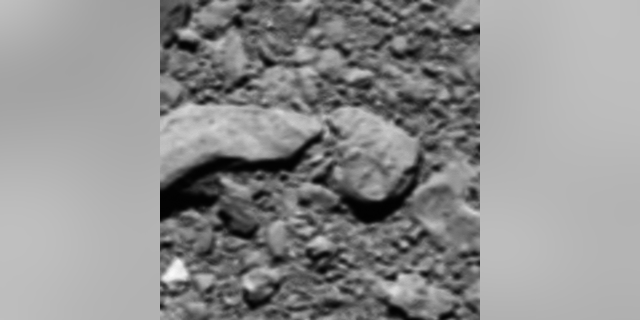 Scientists at the European Space Agency received surprising data from the Rosetta spacecraft just before it crash-landed into a comet last year, enabling them to piece together a final image of the comet's surface.
Rosetta made its slow-motion crash into comet 67P/Churyumov-Gerasimenko on September 30 last year, marking the end of an audacious 12-year mission. Scientists decided to crash-land the probe on the comet because Rosetta's solar panels wouldn't have been able to collect enough energy as it flew away from the Sun along 67P's elliptical orbit.
PHILAE PROBE REACHES COMET, MAKES SPACE HISTORY
Experts, however, have used final telemetry from Rosetta before the spacecraft shut down to build a last image of the probe's touchdown site, dubbed Sais. The image was released Thursday.
"The last complete image transmitted from Rosetta was the final one that we saw arriving back on Earth in one piece moments before the touchdown at Sais," said Holger Sierks, principal investigator for the OSIRIS camera at the Max Planck Institute for Solar System Research in Göttingen, Germany, in a statement. "Later, we found a few telemetry packets on our server and thought, wow, that could be another image."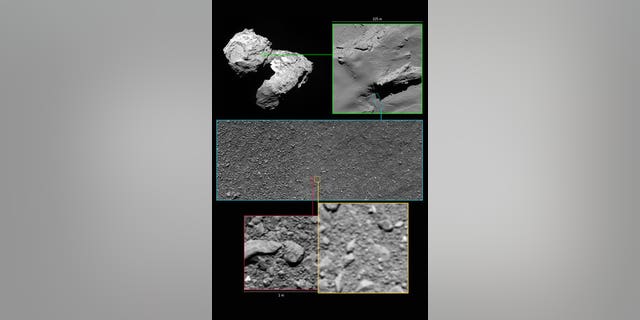 During its mission, images of the comet were split into telemetry, or transmission data, on board Rosetta before being sent back to Earth. "In the case of the last images taken before touchdown, the image data, corresponding to 23 048 bytes per image, were split into six packets," explained ESA, in its statement.
GOODBYE PHILAE: SCIENTISTS END COMMS LINK WITH COMET PROBE
However, the transmission was interrupted after three full packets were received, with 12 228 bytes received, or just over half of a complete image. While this was not recognized as an image by the mission's automatic processing software, ESA's engineers deciphered the data to reconstruct the image.
Rosetta's Philae lander made headlines in November 2014 when it became the first probe to land on a comet. But when the lander settled into the shadow of a cliff three days later its solar panels were deprived of sunlight and it entered into "idle mode." In June 2015, however, the European Space Agency lander began "waking up," intermittently sending data to the Rosetta spacecraft orbiting the comet.
Scientists finally shut down the communication link between Rosetta and Philae in July 2016.
GOODBYE CASSINI: NASA SPACECRAFT MAKES 'DEATH PLUNGE' INTO SATURN'S ATMOSPHERE
Earlier this month, NASA's Cassini spacecraft made its dramatic 'death plunge' into Saturn's atmosphere, ending an epic 20-year space journey. With Cassini low on fuel, scientists opted to destroy the spacecraft rather than leaving the orbiter to drift around space.
The Associated Press contributed to this article.
Follow James Rogers on Twitter @jamesjrogers